COMMUNITY
Milikan Students Rally for Safe Driving
With nearly 1,000 students in attendance, State Farm®, in partnership with the YMCA of Greater Long Beach and Milikan High School, hosted a Teen Driver Safety rally. State Farm Agent Vic Mady was on hand to address the students at the rally about the dangerous effects of driving while distracted.
"As a local agent, I insure many families of the students here at Milikan High School. If we can reach just one student, then we have helped save a life today," Vic said. He left the students with a key chain and T-shirt to remind them to be safe behind the wheel.
The California Highway Patrol also talked about how distracted driving has increased the number of traffic accidents and citations involving teenage drivers. In 2007, State Farm and The Children's Hospital of Philadelphia worked with Congress to designate the third week of October as National Teen Driver Safety Week. Having a dedicated week provides a unique opportunity to focus attention on this national problem.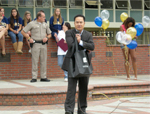 When it comes to distracted driving, State Farm is particularly concerned about teenagers' texting while driving and using electronic devices while driving. Our research, in partnership with the Children's Hospital of Philadelphia, reveals that 89% of teens report seeing friends using cell phones while driving. Distracted driving has an extreme impact on young drivers due to their inexperience in managing distractions.