COMMUNITY
Off-Campus Fire Hazards
College student risks his life to save his best friend
Mechanicsville, Virginia (September 7, 2012) - Kirk Rohle is the son of a long-time State Farm® customer in Mechanicsville, Va. Agent Ken Loving has insured the Rohle family for 25 years, including homeowners' insurance which covered Kirk's lost possessions.
If he had it to do over, Kirk Rohle would have paid more attention to those safety talks by the fire marshal at Hampden-Sydney College in Farmville, Va.
Today, Rohle knows all too well the importance of fire safety. Six months ago, he almost died in an off-campus house fire.
In late January, ash from a smoldering cigarette spread from the porch to the house. By 4AM, the log cabin structure was on fire.
All nine occupants – except for one, Benjamin Rogers – made it outside.
Clad only in boxers, Rohle didn't hesitate. He plunged back into the structure, yelling the name of the guy who had been his best friend since grade school.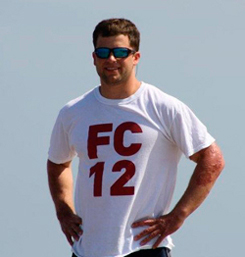 "We actually passed each other by the stairs," Rohle said. "The smoke was too intense – and the popping and cracking were so loud – we couldn't hear anything."
Rohle burned his back, hands and feet before the intense heat drove him back outside - where he reunited with his friend.
"I felt like I was in there for 10 minutes, but it was maybe two minutes. You don't realize how smoke blinds you in a fire. That's why it's so important to practice fire drills so that, even if you can't see, you'll know how to figure out where you are so you can get out."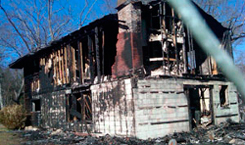 Rohle spent two months in the burn unit. He still wears compression clothing to minimize scarring.
Today, he is extremely safety-conscious. He talks to students at his alma mater and Virginia Commonwealth University about fire safety.
"I tell them to have a plan. We practiced fire drills all the time, but I wasn't really paying attention. If I had a plan, I could have gotten out without trouble. I would have known which window had a 30-foot drop."
He tells students to:
Have a plan. It can help you avoid getting lost and wasting precious time.
Put on clothes and shoes if possible.

Don't worry about grabbing anything. Possessions can be replaced.

Pay attention to safety talks.

Make sure your fire alarms work.
"I know so many people who take the batteries out of their smoke alarm when it goes off. That's such a stupid thing to do. Deal with it."