COMMUNITY
California
State Farm® Sponsored the 24th Annual E. J. Jackson Foundation Turkey Dinner Give-Away
Among the many volunteers at the 24th Annual E.J. Jackson Foundation Turkey Dinner Give-Away on November 22, were Los Angeles Mayor Antonio Villaraigosa and several State Farm agents and employees.
For more than 20 years, E.J. Jackson has given away Thanksgiving dinners from the headquarters of his limo company, Jackson Limousine Service, in L.A. Jackson's turkey dinners come complete with all the fixings, and he's given out more than 75,000 of them. To make it happen, Jackson takes donations from local businesses and from some of his celebrity clientele for the annual event.
"State Farm is committed to being a good neighbor to the communities we serve," said Carmel Stevens, a local State Farm agent. "More specifically, we understand the need of South L.A. residents during the holidays, especially Thanksgiving. Our continued support of this event demonstrates the high value we place on building relationships with the community."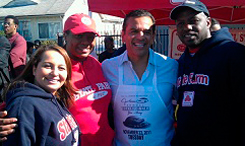 State Farm Agent Intern Sheldon S. Stokes said, "It's important for State Farm to be involved in events like the turkey dinner because is exemplifies our slogan of being a good neighbor. We are showing people that we are a positive influence in the community that cares about its residents. We are compassionate in serving those that are less fortunate and enjoy helping other people. We strive to build a better community and make the world a better place."
State Farm has enjoyed a relationship with the E.J. Jackson Foundation for the past two years. As a true community partner, State Farm believes there has to be a connection between the company and the communities where we live and work. State Farm feels fortunate to be a part of an organization that places a high value on building strong communities, makes it a priority, and takes it seriously. That's what it means to be a good neighbor.