COMMUNITY
Home and Recreation Safety
State Farm® promotes home & recreation safety by partnering with the Home Fire Sprinkler Coalition, IBHS, FLASH® and other organizations.
Home Fire Sprinkler Coalition
State Farm supports the installation of fire sprinklers in homes and is a national sponsor of the Home Fire Sprinkler Coalition (HFSC), a national non-profit organization that promotes the installation of residential fire sprinkler systems in homes. In fact, State Farm is the only insurance company actively supporting and promoting the installation of residential fire sprinkler systems.

Insurance Institute for Business & Home Safety (IBHS)
IBHS's mission is to reduce the social and economic effects of natural disasters and other property losses by conducting research and advocating improved construction, maintenance, and preparation practices. IBHS promotes a nation that shows resiliency from natural disasters and other property losses. The organization focuses on an infrastructure that is damage-resistant and personal and corporate action that helps minimize disruption to normal life and work patterns. State Farm is a member of the IBHS Board of Directors and is a major contributor to IBHS's state-of-the-art, multi-peril applied research and training facility built in Chester County, South Carolina.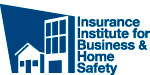 Arson Dog – Man's Best (Firefighting) Friend
Each year, hundreds of lives and billions of dollars' worth of property are lost as a result of fires set by arsonists. Since 1993, State Farm has worked with Maine Specialty Dogs and the Maine Criminal Justice Academy to train canine/handler teams who can sniff out arson.
Federal Alliance for Safe Homes (FLASH)
The Federal Alliance for Safe Homes (FLASH) is the country's leading consumer advocate for strengthening homes and safeguarding families from natural and manmade disasters. State Farm is among the more than 100 innovative and diverse FLASH partners that share its vision of making America a more disaster-resistant nation. State Farm is a FLASH Founding and Legacy Partner and a FLASH sponsor partner of StormStruck: A Tale of Two Homes®, the popular interactive weather mitigation exhibit at INNOVENTIONS at Epcot® at the Walt Disney World® Resort. Consumers, contractors, families, emergency managers, meteorologists, news organizations like CNN and more rely on FLASH as a trusted source for information on how to protect families and homes from disasters of all kinds.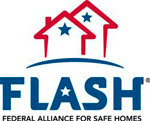 Emergency Education
State Farm's online tools and resources for rescue workers and first responders can be helpful for anyone. Read case studies, meet experts, and learn how professionals are trained to deal with different emergencies at sfsafetraining.com.
Is your home at risk?
We truly believe in helping you manage the risks of everyday life. Learn the four most common home claims in your state and connect with resources to help you protect the roof over your head! Visit our beloved "peril map" in the Learning Center!