Innovation Research
Innovation Providing Value to Your Life
485 provides product design, development, and consultation services by nurturing innovative ideas into business opportunities and partnerships that will enhance everyday living.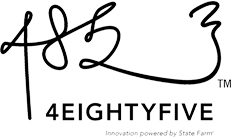 Partnering Big Ideas
The 485 process is about collaborative ideation and advancement.
Our Process
The 485 process begins with our primary vision.
The 485 Think Lab
It's about a simple principle: An idea nurtured — no matter the environment — will transform.