NEWSROOM
State Farm® is Assisting Policyholders Impacted by Tornadoes, Hail
Bloomington, Ill., March 5, 2012 – State Farm Claim Representatives already are helping our customers recover from tornado and severe weather damage that impacted communities from Kansas to North Carolina, Alabama to Indiana.
"We know this is a difficult time for many of our customers and we are here to help them get their lives back on track as quickly as possible," said Claims Assistant Vice President Karl Brondell.
State Farm, the leading insurer of cars and homes in the nation, is responding with the largest mobile workforce of experienced catastrophe claim handling professionals in the industry. As of Saturday more than 6,300 claims have been reported; 3,600 home; 2,700 auto. If you've experienced damage, contact your State Farm® agent, call 800-SF-CLAIM (800-732-5246) or go online to www.statefarm.com. Representatives are available 24 hours a day, seven days a week to assist policyholders.
If it is safe to do so make any necessary temporary repairs to protect your home from any further damage. Make sure to keep all receipts and take pictures so when your claim representatives get to your home they can see what has been done so far.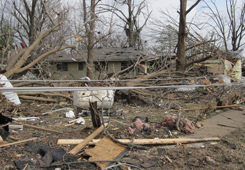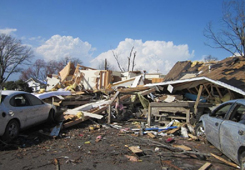 About State Farm®
State Farm and its affiliates are the largest provider of car insurance in the U.S. and is a leading insurer in Canada. In addition to providing auto insurance quotes, their 17,800 agents and more than 65,000 employees serve 81 million policies and accounts - more than 79 million auto, home, life and health policies in the United States and Canada, and nearly 2 million bank accounts. Commercial auto insurance, along with coverage for renters, business owners, boats and motorcycles, is also available. State Farm Mutual Automobile Insurance Company is the parent of the State Farm family of companies. State Farm is ranked No. 43 on the Fortune 500 list of largest companies. For more information, please visit statefarm.com® or in Canada statefarm.ca®.