Newsroom
State Farm® Donates $60,000 to StreetSafe program
Correcting bad driving habits
Raleigh, North Carolina, May 7, 2012 - Research shows that teens are still texting when behind the wheel.
StreetSafe, which promotes safe driving behaviors using behind-the-wheel and classroom training for teens, recently hosted a teen-driving session at Apex High School in Raleigh, N. C.
Part of the program featured State Farm North Carolina Agents Wayne Cottrell of Raleigh and Cherie Morrison of Apex presenting a $60,000 Good Neighbor Citizenship grant to the program.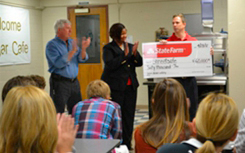 The event received local media coverage on several outlets, including: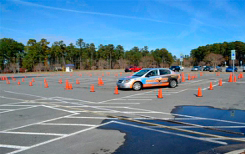 Note:
This is a marketing tool intended for use in the sale of insurance. Completion of an application for a State Farm insurance policy will require contact with a State Farm agent.
This information provides only a brief explanation of coverage currently available in FL. There are terms under which the policy may be continued in force or discontinued. Modifications apply in some states. See policy series 97053FL or 97054FL for exact terms and conditions. Policy series 97053FL premiums are step-rates based on the age of the insured at the time of renewal. Policy series 97054FL premiums are level-rated. Policy is guaranteed renewable to age 67. For additional details on coverage and cost, contact a State Farm agent.
DII-FL.0