Newsroom
Youth Advisory Board Awards $325,000 in Grants
Bringing a message of acceptance and respect about living with disabilities, A Touch of Understanding (ATOU) is a non-profit organization that visits Sacramento area schools to give students the opportunity to experience first-hand the challenges faced by people with disabilities.
As a result of the work they do and the involvement of youth in designing and facilitating these programs, A Touch of Understanding received a $78,156 grant from the State Farm® Youth Advisory Board. In total, the Youth Advisory Board awarded six California organizations a total of $325,000.
"We are very excited for this grant from State Farm's Youth Advisory Board," said ATOU Executive Director Leslie DeDora. "Our programs have a tremendous impact and this grant will allow students to learn about acceptance, respect, and empathy from their peers."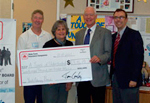 ATOU reaches out to more than 4,000 students each year with the aim of helping students look beyond the disability, the wheelchair, the braces, the sometimes-unpredictable behavior, and see the person. The two-part program includes first-hand experience with wheelchairs, mobility canes, Braille, handle braces and artificial limbs, and activities that demonstrate learning disabilities and autism. They also meet with volunteers who have disabilities, who share their insight and experiences with humor and honesty.
The State Farm Youth Advisory Board (YAB) is a diverse group of 30 youth, ages 17–20, who were chosen through a competitive process to lead and oversee this nationwide $5 million per year signature service-learning initiative. The YAB identified the issues, issued competitive grants, and will now provide technical assistance, communication, and oversight to site grantees.
"State Farm has a strong commitment to our youth and to the leadership they provide," said Tom Conley, State Farm California Senior Vice President. "We're excited to see the results and the positive impact these grants will have on communities here in California."
"I think what State Farm is doing with the YAB is revolutionary — allowing a group of young community leaders to make decisions on millions of funding dollars," said Ernestine Fu, California YAB member. Kristy Nguyen, another California YAB member, added, "Every grant recipient we selected this year has demonstrated that they are impacting communities. We are just so excited we can play a part in helping them do so."
Since 2006, the YAB has been awarding grants that focus on disaster preparedness, environmental, driver safety, higher-education/closing the achievement gap, and financial education. State Farm supports service-learning because it combines service to the community with classroom curriculum in a hands-on approach to mastering subject material while fostering civic responsibility.