Newsroom
Green and Healthy Neighborhoods
With State Farm® grant funds, Local Initiatives Support Corporation (LISC) New York City launched the Green and Healthy Neighborhoods program to create healthier, more energy efficient environments, and environmentally sustainable housing and communities. A hallmark of the program is the effort of LISC and its community partners — Bedford Stuyvesant Restoration Corporation (BSRC), the Cypress Hills Local Development Corporation (CHLDC), and the Pratt Center for Community Development — to help residents complete low-cost energy retrofits in two Brooklyn neighborhoods. Typical buildings lose some 20-50% of the energy they use due to poor insulation and air sealing, as well as inefficient appliances and heating systems — a fact that takes a huge toll on low-income households that spend an average of 14% of gross income on utility costs. Green and Healthy Neighborhoods helps low-income households afford such retrofits, which can help families save between $350 and $1,200 per year on utility costs in New York City.
Using a block-by-block approach developed by the Pratt Center, BSRC and CHLDC team members are deployed to knock on doors and educate residents on lowering energy costs and green living strategies. Further, BSRC and CHLDC help families navigate the process of applying for public and private subsidies to pay for necessary home improvements. Since the program's launch in 2010, Green and Healthy Neighborhoods has helped 419 households complete such cost-saving retrofits. Using a comprehensive community development approach, Green and Healthy Neighborhoods also connects local residents to the green jobs industry. Together, LISC and State Farm's support of BSRC and CHLDC helped 77 people become trained in green retrofits and construction techniques, leading to the creation or retention of 27 jobs in just 21 months.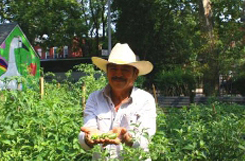 State Farm is proud to continue its support of LISC NYC's Green and Healthy Neighborhoods program through 2013 as it expands to two new neighborhoods — South Park Slope/Gowanus in Brooklyn and Mount Eden in the Bronx. With its geographic expansion, Green and Healthy Neighborhoods will incorporate a new emphasis on healthy food initiatives like community gardening and urban agriculture. Further, LISC New York City will take the lessons learned from the integration of workforce and green development and launch the Green Workforce Development Initiative — an expanded effort to connect unemployed, underemployed, or hard-to-employ individuals to green job opportunities that arise in its target neighborhoods.