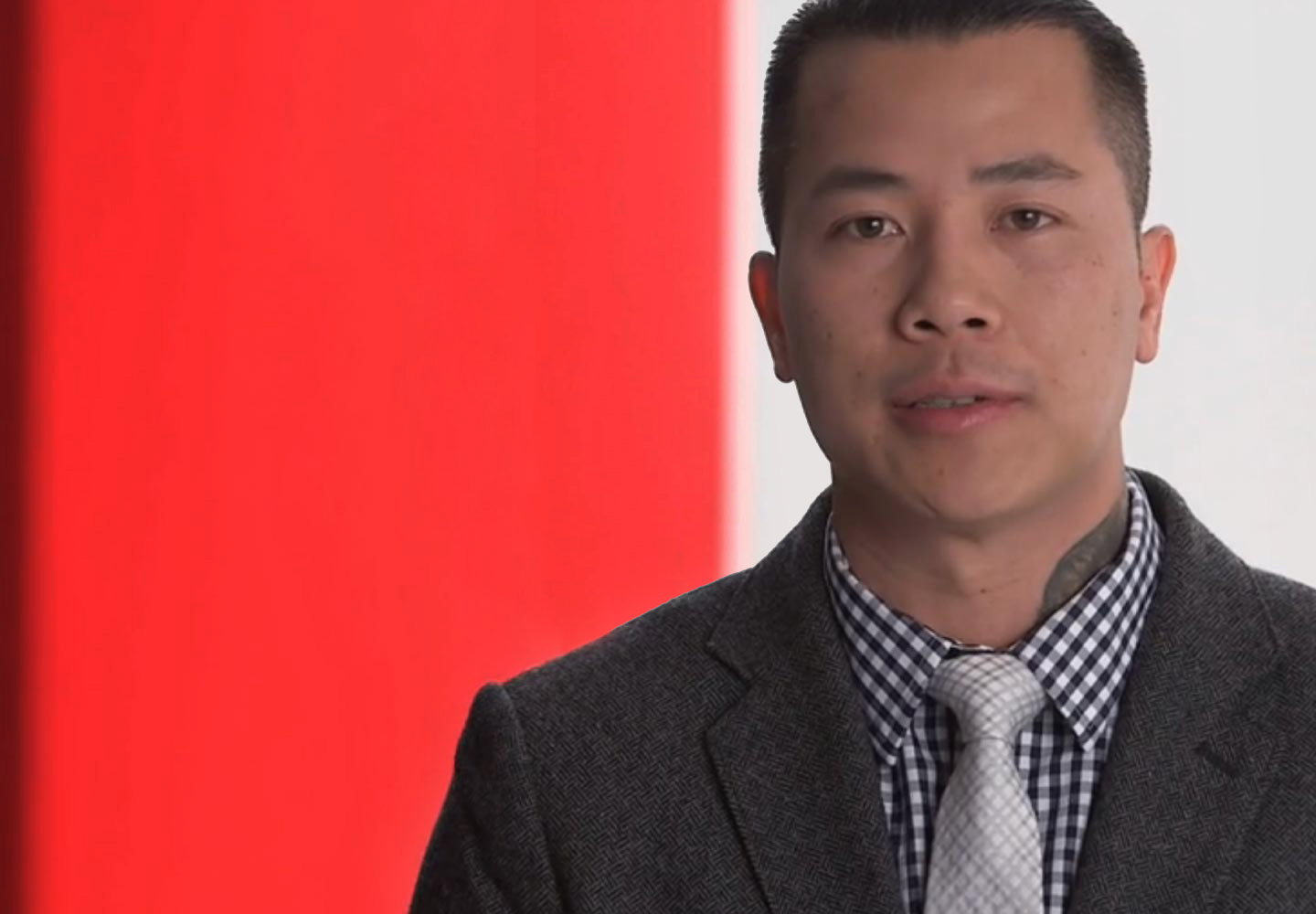 Watch the video to see Thang Vo share how he switched careers and became a State Farm
®
agent.
Thang Shares His Experience
Thang Vo - Why State Farm
(Image) Thang Vo smiles at camera.
(Words on Screen)
Become an agent
Why State Farm
(Speaker: Thang Vo)

Before I was a State Farm agent, I was a counselor working for a nonprofit for at risk youth. The main thing is just being there for them. And that's just very rewarding. I've been there for about eight years. And I want to do something similar to that. And I thought State Farm would be the best choice for that.

(Image) Thang sitting at his desk in his State Farm office, talking on a headset. Image switches to show Thang working with one of his team members, then again to show the exterior of the office with Thang walking in.

(Speaker: Thang Vo)

I found that State Farm has one of the best support systems out there. I didn't know how to start my business, and how to hire a great team, how to market myself. And at State Farm, their support system helped me just to face those challenges.

(Image) Thang works with male customer and his young daughter in their home. They are sitting on the couch, looking at a laptop. Image switches again to Thang working with customers in his office.

(Speaker: Thang Vo)

So you get the chance to wear different hats every day. You could be a teacher one day, or a manager one day.

Meeting with a State Farm customer every day, for me, it's more than at business level. Because I get the chance to get to know them as a person, as well as them getting the chance to know me as a person. When there's a claim, we want to be there for them, guide them, help them step by step, and make sure that they're OK if they need any help at all, and to contact us at any time.

(Image) Thang talks to camera.

(Speaker: Thang Vo)

It's very rewarding and is the best job out there because not only are you working for yourself, but also you're representing the best company out there. That what's motivating me to become a State Farm agent and keep on going every single day.

(Image) State Farm® logo
Close
1

Application

Submit an application to the Agency Career Track Program

2

Questionnaire

A review of your answers can predict the likelihood of success in a career like an agent.  An acceptable score moves you on to the next step.  Otherwise, you'll have to wait 12 months to try again.

3

Assessment

Candidates are evaluated and those who exhibit the knowledge, skills, abilities, and other attributes critical to success move on to the next step in the process.

4

Candidate Review

Your credit report, criminal record, work/education history, and motor vehicle record helps determine eligibility for meeting various employment and licensing requirements in the insurance and financial industry, subject to applicable state and federal laws.

5

Career Understanding

Get a better understanding of the agent opportunity through different learning modules and videos. You'll also be able to talk to State Farm contacts and other agent candidates.

6

Business Proposal Presentation

Put what you've learned to work. Create and present a business proposal to your recruiting and sales leadership team.

7

Licensing and Requirements

Be sure you have the appropriate insurance producer licenses (property & casualty and life/health) in your resident state, or the state in which you're selected for an agency opportunity.

8

Posting

With appropriate state licenses confirmed, you will gain access to view, consider, and compete for agent opportunities across the United States.

9

Site Interview

Sales Leaders may choose to conduct interviews for new agents in their market area. If selected, a job offer as an agent intern is made contingent on successful completion of applicable background and licensing checks.

10

Internship

Once selected, you will enter the agent intern program for product and leadership training, along with a field development experience with an established agent.
Get Started
Hear from more State Farm agents on YouTube.


---
Download our
Become an Agent
PDF.
---
Reasonable Accommodation Assistance
If you need assistance during the application or hiring process to accommodate a disability, you may request a reasonable accommodation by contacting Career Center Support or your State Farm® contact.
State Farm is an equal opportunity employer.