NOTE: This module only appears in edit mode in order to convey important information about the page and to allow editing of that information.
Metadata
Metadata provided is used to improve the page's SEO rank, visibility on social media, and to manage and track internal information about the page. Hover over the values you would like to change or hover over and click on the Show Properties icon at the top right of this section to view additional fields.
Allow publish to production:

True

Title:

Bank, Accounting & Financial Careers

Keywords:

bank and ac cg careers, financial careers

Description:

State Farm® offers many different financial careers in a wide variety of business areas. If numbers are your thing, check out our bank and accounting careers here!

Include page in sitemap:

True

Allow search to index and crawl beyond:

index, follow

Include link to other language:

True

Language Tone:

formal

Transcreated:

False

Regression Test Date:

7/13/2018 3:21:38 PM

Compliance Review Date:

7/18/2018 3:21:33 PM

Compliance Reviewers:

Enter individual(s) responsible for reviewing this page

Compliance Code:

Enter a compliance code

Approved for Use:

No
Accounting, Financial & Banking Careers
Work to Create a Successful Future
Fair pricing, financial strength, and the ability to help customers reach their dreams are a few of the hallmarks of our Company's reputation. State Farm® Accounting, Financial, Data Analytics and Banking are just a few of the departments where we make it happen.
Jobs in these areas help build the trust and integrity our customers depend on.
Find Jobs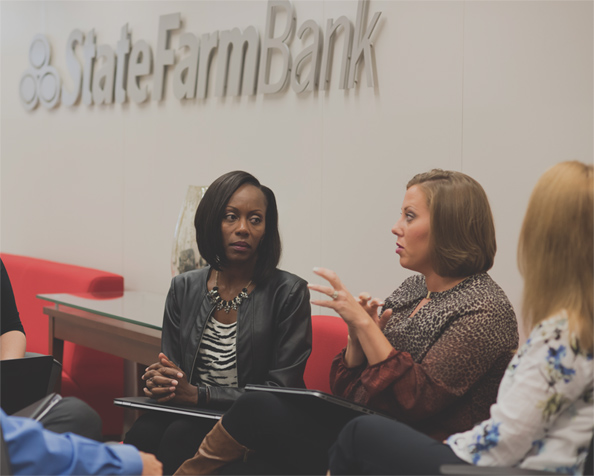 State Farm Bank®
State Farm Bank employees have a variety of different responsibilities. They can help customers directly to support different product lines, research customer needs, fulfill compliance standards, and more.
Financial Operations Career Insights
Our Finance and Accounting divisions support strategic planning, regulatory and financial reporting and data analytics. Our teams work on: tax research and filings, financial statements, statistical premium and loss analysis, compensation, expense processing, treasury/banking services, accounting for investments, cost benefit analysis, enterprise planning/budget coordination, data analytics and forecasting, and capital management.
Internal Auditing Career Insights
Our Internal Audit team consults Company leaders and the Board of Directors. We also ensure an independent, disciplined approach to evaluating and improving risk management, control, and governance processes. We're responsible for reviewing financial, operational, risk management, and compliance control systems. Auditors monitor changes within the Company, insurance and financial services industry, and the auditing profession.
Other State Farm jobs you may be interested in:
Reasonable Accommodation Assistance
If you need assistance during the application or hiring process to accommodate a disability, you may request a reasonable accommodation by contacting Career Center Support or your State Farm® contact.
State Farm is an equal opportunity employer.