Claims Help
Select Service® and Competitive Bids
The State Farm™ Select Service program includes a network of auto repairers committed to providing quality auto repairs for State Farm customers.
Program Benefits
Quality, professional repair service
National, limited lifetime repair warranty

Guaranteed repair completion date

Wash and vacuum of your vehicle

Pick-up and delivery of your vehicle upon request

Other convenient services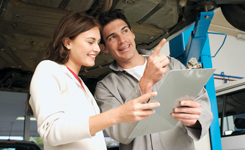 Where are Competitive Bids Used?
Competitive repair bids are used in areas where Select Service repair facilities or State Farm personnel are not available to write estimates. The competitive bid process involves customer submission of competitive estimates for their automobile repairs for the purpose of claim evaluation.
Learn More
This program is not available in Rhode Island and Massachusetts.
Why State Farm?
State Farm has always based its business on one principle: integrity. We'll make sure you get your life back on track in case the unexpected happens.