RESOURCES
Home Building & Repairs
The State Farm Premier Service® program can help you by providing a list of participating contractors for your repairs. If your loss is eligible, you can opt to use this Good Neighbor service.
How it Works
Report a claim or contact your State Farm® agent to report the loss to your property.
Choose a participating contractor; your claim representative can help you choose and will notify your selected contractor of the assignment.

Contractor will contact you and set an appointment to examine and estimate the damage.

Following your authorization, contractor begins repairs.

You authorize payment to the contractor upon completion of repairs and pay your deductible to the contractor. Contractors guarantee their workmanship for up to 5 years.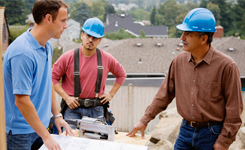 If you have any questions or want to see if this service is available in your area, contact your State Farm agent or claim representative.
Note: The State Farm Premier Service program may not be available in all service locations.
Why State Farm?
State Farm has always based its business on one principle: integrity. We'll make sure you get your life back on track in case the unexpected happens.