CUSTOMER CARE
There for You Whenever, Wherever
Take State Farm® with You Everywhere You Go — with State Farm Mobile
Whenever and wherever, we're there for you.
Day or night, from your mobile phone or tablet device, we're always ready to help. From claims and driving tips to insurance coverage and financial planning, we'll get you there through State Farm Mobile.
CarCapture™
You're in the market for a new vehicle. Maybe you've even been car shopping for a while. And one day, you come across a vehicle that grabs your attention. With CarCapture, it's easy to learn more. Just take a picture with your compatible device, and the CarCapture vehicle recognition app shows you info that includes features, specs, and more. Powered by Edmunds.com®, the trusted car shopping website.
Pocket Agent®
With Pocket Agent, you can find an agent, report a claim, make a bank deposit, do your banking, get roadside help, and a whole lot more!
Steer Clear® Mobile
Like discounts? If you're under 25, this app assists you with your journey in earning the Steer Clear discount.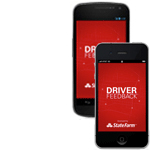 Driver Feedback™
Drive smarter. State Farm Driver Feedback scores your driving and gives you tips to help you drive even better.
Driver Feedback™ Instructor Edition
Help your students drive smarter. With State Farm Driver Feedback for driver education instructors, you can easily manage multiple drivers and groups, track progress, tag real-time driving events, and share reports.
Download Driver Feedback Instructor Edition
MoveTools®
Stop stressing and start planning with MoveTools, a tablet app developed specifically to help you manage your move. Keep it handy and use its interactive features to help you pack up, move out, and move in .