BANKING
State Farm Crystal Rewards® Visa Signature®
Earn rewards faster!
State Farm Crystal Rewards® Visa Signature®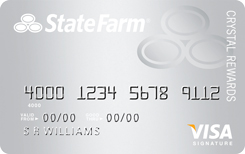 Best card for people interested in a rewards program who use their credit card for everyday purchases.
Highlights
Earn 1.5% in State Farm Dollars®

[PDF-141.2KB]

when annual purchases1 exceed $10,000.

Earn 1% in State Farm Dollars for annual purchases1 up to $10,000.

Introductory APR on purchases.2
Carrying a balance transfer balance may impact your grace period for purchases.*

$30 annual fee.2
Rates
0% introductory APR on purchases for 12 months, thereafter a variable rate of 13.24%–20.24% APR based on creditworthiness. This APR will vary with the market based on the Prime Rate.2
1 For every purchase made with a State Farm Crystal Rewards® Visa Signature® credit card, the primary account holder will earn 1.5% of the transaction amount in State Farm Dollars once the total annual purchases exceed $10,000; purchases that are part of the first $10,000 will earn 1%. In calculating total annual purchases, we will utilize date the account was enrolled in the State Farm Dollars program to determine the earnings tier level. Insurance premium payments made with a State Farm Crystal Rewards credit card will earn an additional 0.25% in State Farm Dollars. Eligible insurance premium payments include those classified with Visa as insurance purchases. Returned purchase credits and refunds will be deducted from the State Farm Dollars balance.
*You will lose the grace period for new purchases if the total balance of your new purchases and your balance transfers are not paid in full before the due date. To avoid losing your grace period for new purchases, do not use your card for new purchases after your balance transfer or pay the entire balance, including both the new purchases and balance transfers, within the billing cycle that you make a new purchase.
Details
State Farm Dollars
State Farm Bank®, Bloomington, Illinois, is a Member FDIC and Equal Housing Lender. NMLS ID 139716. The other products offered by affiliate companies of State Farm Bank are not FDIC insured, not a State Farm Bank obligation or guaranteed by State Farm Bank, and subject to investment risk, including possible loss of principal invested. Contact State Farm Bank toll-free at 877-SF4-VISA (877-734-8472). Callers who are hearing or speech impaired should dial 711 or use a preferred Telecommunications Relay Service.