EDUCATION SAVINGS PLANS
Education Planning: Get Started
Many students graduate with a college education and a substantial amount of debt. However, research shows an investment in a college degree pays off in the long run.1 That can be assuring as you think about the future. But assurance needs a plan. Developing a plan is key to reducing your student's reliance on loans, while balancing your other savings goals - and now is a right time to start. Your State Farm® agent can explain your choices in easy-to-understand terms and help you develop a tailored savings plan that fits your needs. Contact an agent
Why is Education Planning so Important?
Research confirms what you might have suspected: education can help put students on the path to a brighter future.
Individuals with higher levels of education earn more and are more likely to be employed than high school graduates1
College-educated adults are more likely to receive health insurance and pension benefits from their employers1
1Education Pays 2015 – The Benefits of Higher Education for Individuals and Society, by The College Board.
Projected College Costs
The cost of college is rising. That's just a reality. The earlier you start a plan, the more prepared you'll be to help your student earn an education with little or no debt. Education planning isn't easy but you can do it.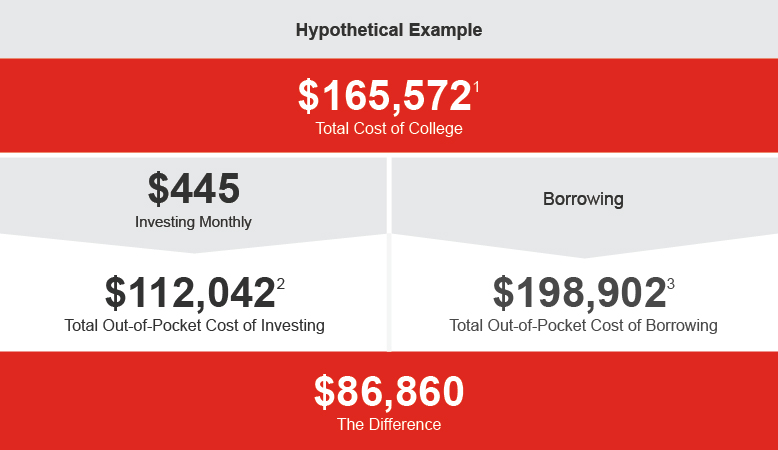 Source of chart data: The College Board "Trends in College Pricing," 2015. Average college costs include tuition, fees, books and supplies, room and board, transportation and other expenses as well as the assumed 2.9% annual public rate of increase (3.6% private). This illustration uses the actual 2015 cost averages in order to project the hypothetical future costs.
2 The hypothetical illustration shows the future value of regular monthly investments over 18 years starting at child's birth. It also assumes an initial contribution of $25 and an annual effective investment return of 4% compounded annually. 

3 Based on U.S. Department of Education's direct unsubsidized loan for undergraduate students issued at a fixed interest rate of 4.29% for 2015-2016 with a Standard Repayment Plan of 120 months. Fees not included. Example is for illustrative purposes only.
State Farm® Can Help
State Farm can help you plan for an incredible time of growth in your student's life – college.
We've simplified the process for you with the information on this site. Remember, your State Farm agent is also ready to help you get started, with the personalized, one-on-one support you need to make the right choices. Contact an agent
Keys to a Successful Plan
First, set your goals. Think about where you are today, and where you'd like to be tomorrow. In addition to education savings, be sure to consider other long-term goals like purchasing a home and saving for your retirement.
Then fund your education savings account. College saving accounts may offer tax advantages and help make education costs more manageable by allowing you to grow or accumulate necessary funds.
Protect your investment. The more prepared you are for the unexpected, the less likely it is that you'll have to dip into education savings.
Next Step: How Much Do You Need?
For educational purposes only.
State Farm and its affiliates do not provide tax, investment, or legal advice. Federal and state tax laws are subject to change. If tax, investment, or legal advice is required, please seek the services of a licensed professional.