Education Savings Plans
Education Planning: How Much Do You Need?
Whether you're just getting started or already have a plan in place, taking a few simple steps can help you avoid sticker shock when your student heads off to college.
Take a couple of minutes to use our calculator and get an estimate of the amount you'll need to start saving towards.
Is it better to invest now or borrow later?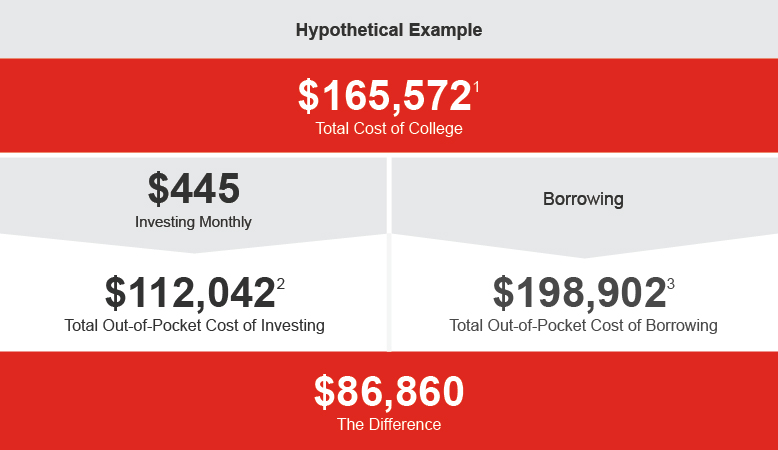 1 The College Board "Trends in College Pricing," 2016. Projected cost of a public 4-year college based on a child 0 years of age and actual 2016 cost averages. Average college costs include tuition, fees, books and supplies, room and board, transportation and other expenses as well as the assumed 2.7% annual public rate of increase.
2 The hypothetical illustration shows the future value of regular monthly investments over 18 years starting at child's birth. It also assumes an initial contribution of $25 and an annual effective investment return of 4% compounded annually.  

3 Based on U.S. Department of Education's direct subsidized and unsubsidized loans for undergraduate students issued at a fixed interest rate of 3.76% for 2016-2017 with a Standard Repayment Plan of 120 months. Fees not included. Example is for illustrative purposes only.
The best time to start investing or saving is now because an early start on saving lets your money work harder and longer, making a dramatic difference. The chart below demonstrates the point. By investing or saving early and often over 18 years, you could help cover your student's future college expenses.
State Farm® offers savings and investment options to help meet your needs. Talk through education savings options with your State Farm agent to find the type of account that suits your needs, today. Contact an agent
Next Step:Get Started
For educational purposes only.
Neither State Farm nor its agents provide tax or legal advice.