EDUCATION SAVINGS PLANS
OppenheimerFunds Balanced Portfolio
The OppenheimerFunds Balanced Portfolio invests in a combination of equity and fixed income investments. This portfolio has a target allocation of 60% equity investments and 40% fixed income investments, seeking capital appreciation and income.

Performance & Risk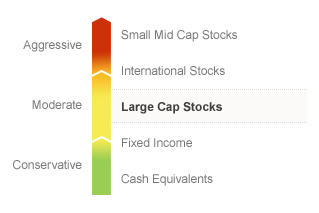 Debt securities may be subject to credit risk (issuer fails to pay interest or principal), interest rate risk (decline in market value due to changes in interest rates), prepayment risk (debt securities may be repaid more quickly and proceeds may be reinvested at a lower interest rate), and extension risk (debt securities may be repaid more slowly and value of the holdings may fall).
&nbsp&nbsp&nbsp &nbsp&nbsp&nbsp
Investment return and principal value will fluctuate and your investment, when redeemed, may be worth more or less than its original cost. Past performance is no guarantee of future results. Recent performance may be less than the figures shown.
The maximum sales charge is 5.50% for Class A shares for The State Farm College Savings Plan Model Portfolios. Performance for Class B shares will differ from Class A shares due to differences in sales charge structure and class expenses. B share returns include reinvestment of distributions, changes in net asset value and the effect of the contingent deferred sales charge (CDSC) which declines from 5.00% in the first year to 0% at the beginning of the seventh year. NAV Total Return does not reflect the deduction of the sales charge.
Net Asset Value (NAV) is calculated by adding all of the assets of a Fund, subtracting the Fund's liabilities, then dividing by the number of outstanding shares.
The plan may charge administrative service fees and assess sales charges. These are in addition to the investment management fees and other expenses associated with the underlying investments.
Prior to July 1, 2017, Class A units were sold with an initial sales charge. Effective July 1, 2017, all Class A units are sold at net asset value without the imposition of an initial sales charge.
1 Beginning on February 27, 2012, Class B Units are no longer being offered by the Plan. Any Contributions for Class B Units received by the Program Manager on and after this date will automatically be directed to Class A Units. On April 22, 2018, all Class B Units of the Plan were converted to Class A Units.
2 Total Annual Operating Expense information as of March 26, 2018.
3 Benchmark returns for the period Since Inception began on November 3, 2008 for all Portfolios. Returns shown for Portfolios with less than a full year of operations are cumulative, not annualized returns.
* The inception date is November 3, 2008.
Portfolio Composition
Fees & Features
Portfolio Management
Risk Disclosures
Investing involves risk, including potential for loss.
Asset Allocation and diversification do not assure a profit or protect against loss.
Enrollment Based Portfolios are similar to target date funds in that their investment objectives are adjusted over time to be more conservative as their target date (date the investor plans to start withdrawing funds) approaches. The principal value of the fund(s) is not guaranteed at any time, including at the target date.
The stocks of small companies are more volatile than the stocks of larger, more established companies.
Foreign investments involve greater risks than U.S. investments, including political and economic risks and the risk of currency fluctuations.
Bonds are subject to interest rate risk and may decline in value due to an increase in interest rates.
AP2018/05/9952
No Bank Guarantee
May Lose Value