Retirement & IRAs
Retirement Planning: Just Starting to Save
Although retirement may be decades away, now is a great time to start preparing. The sooner you begin saving, the better, because your money will have more time to work for you.
We know that thinking about retirement can be overwhelming, but we're here to simplify things and to help you create a plan that allows you to achieve your goals now and in the future. Here are some ideas to discuss with your State Farm® agent so you can get started today:

Start Simple
Most financial experts agree that the key to saving is paying yourself first. That means, look at what's left over each month after paying bills and decide how much you can dedicate to savings.
A good rule of thumb is to save 10 percent of your pre-tax income every year. If that seems like too much now, start small so you can make saving a habit.
Today's electronic world makes it easy to get in that habit because you can arrange for automatic contributions from your paycheck, so you'll never have to see—or miss—the cash you're contributing.
Assess your savings after a couple of months. If you're easily meeting the goal you set, consider increasing your contribution by 1 percent. Then, schedule a date once or twice a year to reassess and possibly raise your savings contribution again.
On the other hand, if you're struggling to save the initial amount, or even to pay your monthly bills, take a hard look at your entire financial situation. Do you have unnecessary spending you can eliminate? Paying bills and saving for your future should trump spending money on activities or material items that are a luxury not a necessity.
Establish an Emergency Fund
While you're saving for the future, don't forget about the present. An emergency fund is essential for unexpected expenses. Financial experts recommend setting aside three to six months of your net income (take-home pay) or expenses. Store this money in a separate interest-bearing savings, checking, or money market account to make sure the money is easy to access should you need it quickly.
Where to Save
There are many tax-advantaged ways to save for retirement, with 401(k) plans and Individual Retirement Accounts (IRAs) being the most common. A good place to start is with an employer-sponsored retirement plan.
If your employer has a 401(k), contributions can be deducted from your paycheck, making it easy to save for retirement regularly. For 2014 the maximum you can contribute in total is $17,500, although if you are 50 and older you can contribute an additional catch-up contribution of $5,500. For 2015 the maximum you can contribute in total is $18,000, although if you are 50 and older you can contribute an additional catch-up contribution of $6,000. Some employers will also match 401(k) contributions up to a certain percentage of your compensation, or a specific dollar amount. If your employer provides a match, you should take advantage of the maximum amount they offer. Otherwise, you're basically turning down free money for your retirement.
It's possible that your employer may not have a retirement plan, you may not be eligible yet, or you may not receive matching contributions. If this is the case, consider opening an Individual Retirement Account (IRA). You can choose either a Traditional IRA or a Roth IRA.
Don't Delay
The sooner you start saving, the more money you'll have for retirement, and the easier it will be to make saving a priority.
Let us help you get started today! You can calculate what you'll need to retire by visiting Retirement Illustrated®.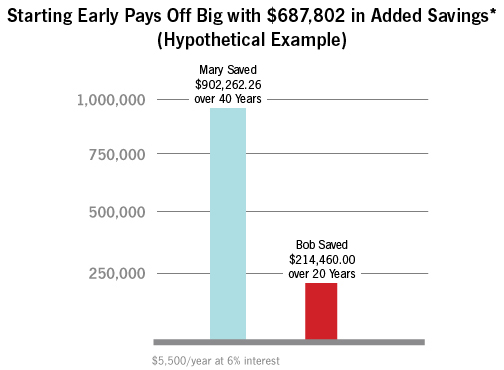 *This illustration is intended to show a hypothetical example of the principle of compounding. The example does not include the impact of any expenses or taxes that would be associated with an actual investment. If such costs had been taken into account, the results shown would have been lower. This hypothetical illustration is not intended to represent any specific type of investment, nor is it predictive of future results.
Disclosure
Neither State Farm nor its agents provide tax, legal or investment advice. Please consult your own adviser regarding your particular circumstances.