WELCOME TO STATE FARM™
Help for today and for your future.
Financial: State Farm Companies Foundation Programs
Matching Gift Program
The State Farm Companies Foundation Matching Gift Program encourages State Farm associates to support higher education. The Foundation matches limited charitable contributions (tax deductible portion) made by eligible State Farm associates and retirees to qualified two- and four-year U.S. colleges and universities. Gifts can range from $25 to $3,000 per calendar year, per employee.
The Matching Gift Program also provides the opportunity for State Farm associates to support community organizations. The Foundation will match charitable contributions made by eligible State Farm associates and retirees to qualifying nonprofit organizations, including K-12 public and private schools. Gifts can be a minimum of $25 up to $1,500 per calendar year.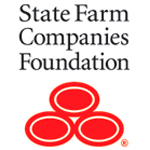 Good Neighbor Grant® Program
Through the Good Neighbor Grant Program, the State Farm Companies Foundation awards a $500 grant on behalf of each eligible State Farm associate or retiree who volunteers a minimum of 40 hours per calendar year to an eligible nonprofit organization.
State Farm Companies Foundation Scholarship
This scholarship program was established by State Farm Companies Foundation to recognize academically talented legal dependents of eligible State Farm associates and retirees. One hundred scholarships are awarded each year. The award can range from $3,000 to $8,000 per year for up to four years of college undergraduate study. The amount of the award takes into account education costs of the college to be attended, family financial circumstances and other scholarship aid the winner receives.
All phases of the competition, including the selection of winners and payment of scholarship stipends, are handled for State Farm Companies Foundation by National Merit Scholarship Corporation.
State Farm Good Neighbor Scholarship
Fifty scholarships in the amount of $5,000 ($2,500 per year – two year renewable) are awarded to graduating high school seniors to attend an accredited U.S. two- or four-year college or university, technical, or vocational school.
Applicant scholarship criteria:
High school senior (12th grade or fourth year)
Student with a cumulative G.P.A. of 2.5 to 3.2 on a 4.0 scale
Student with a demonstrated financial need
U.S. citizen or permanent resident of the U.S.
For details or questions about the State Farm Good Neighbor Scholarship, contact Scholarship America, 507-931-1682, or statefarm@scholarshipamerica.org.
Disclaimer
This brief overview of the State Farm Foundation Programs is not intended to be a complete explanation. For more detailed information, please refer to the online Human Resources Policy Manual for U.S. employees.