Tips for first time car insurance buyers
Getting car insurance for the first time? Here is what to know about policy terms, coverage and potential discounts.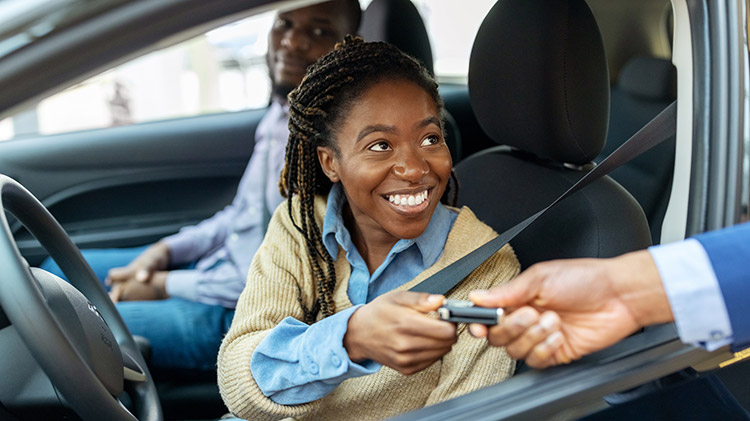 Buying a car can be exciting - and a little bit scary. The same goes with getting car insurance for the first time, all on your own. There's responsibility - deciding what coverage and deductibles you want and need, to name just two examples - and freedom as you move from a parent or caregiver's policy to one that's all your own. There's also the potential to make mistakes.
The first thing to understand about car insurance is that there are a variety of factors that can influence coverage and cost. Age, marital status and home ownership are just three determining factors. And what kind of coverage (and deductible) you want should an accident happen may also help you determine the policy and parameters you choose. Here are questions to ask your State Farm® agent about coverage and discounts as well as the paperwork you may need to establish your own auto insurance policy.
What Coverage Is Available and Required?
Your agent can explain the types of available coverage. These typically include options such as liability, uninsured motorist coverage, collision and comprehensive. When it comes to vehicle insurance, each state sets its own limits on what's required and what's optional. In addition, if you have a loan on your vehicle, your lender may specify insurance requirements, too.
Can You Explain The Terms Related To My Policy?
Some may be familiar to you and others may be new, but your agent will be able to walk you through those insurance ins and outs. Starters include the premium (what you pay each month), the deductible (what you're responsible for paying after an accident), exclusions and limitations (what insurance does and does not cover) and policy beginning and ending.
What Happens If I Need Help?
State Farm offers a number of options to connect with your agent and a customer service representative. One of the easiest options is to download the free State Farm mobile app. You can use it to access a copy of your insurance policy, report a claim, pay your bill and contact your agent. Search for "State Farm mobile app" either through iTunes or Google Play.
What Are Possible Auto Insurance Discounts To Ask About?
Your agent can guide you through possible ways to save on your auto insurance, including:
Good student: save up to 25% for good grades
Safe driver: no at-fault accidents or moving violations for three years
Driver training: complete an approved driver education course
Away at school: using the car only while home during school vacations and holidays
Paperwork To Bring To Your State Farm Agent's Office
To establish your own car insurance, you'll need:
A valid driver's license
Bank account information
Vehicle details, including the VIN number (typically found on the dash near the bottom of the windshield or inside the driver's door), make, model and year
Loan information
Once you've established your policy, schedule an insurance review at least once a year to go over policies, changes and needs. As you age, you may require more, less or different coverage, and you may qualify for additional savings.