How to Volunteer and Love It
Find the right fit to help your community and feed your passion.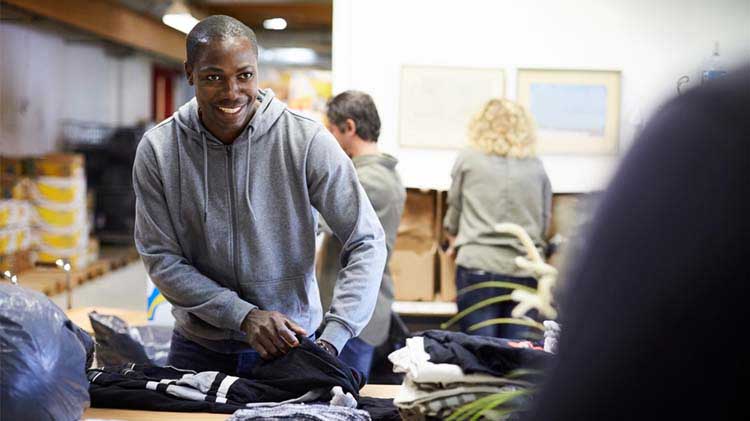 Want to make a difference through your volunteer work? The secret is to find the right fit. Consider these elements to find a volunteer position that can turn into the ultimate passion project.
Q: What is your goal?
A: "Giving back" is worthwhile, of course, but defining what you want to accomplish is more helpful. In addition to making an impact in the lives of others, some volunteers may also take on a volunteer role to learn more about their community, make new friends, or broaden their professional network. Your goal doesn't have to be broad or long-term. In fact, narrow and small in scope is a good way to test out the waters. For example, "feeding the hungry" is admirable, but how about "organizing a holiday food drive" as a more specific effort?
Q: What groups are working toward your goal?
A: After goal-setting, this is a great next step. Nonprofits have a mission, and there may be different groups that work on different aspects related to your goal. For example, one group may work on helping homeless veterans, while another may do outreach to homeless teens.
Q: How do I learn more?
A: Set up an interview with the volunteer coordinator at the organization. "Use the initial interview to assess chemistry and determine if there is a fit between the organization's culture and your volunteer goals," suggests Nancy Collamer, a career and retirement coach at MyLifestyleCareer.com. That interview should give you insight into the organization's culture.
Q: What are realistic time commitments you can offer?
A: Be honest about your schedule and limit your initial involvement. It's tempting to commit to large chunks of time, especially when you're starting out as a new volunteer, but small commitments can help you ease into the right volunteer match.
Q: What are good ways to test out volunteering with a new group?
A: Attend a volunteer meeting, have a conversation with your fellow volunteers, and participate in some low-stress events in order to understand the kind of commitment you'll need to make going forward. "Start off with a limited number of hours until you have a better sense of how much time you're willing to offer," says Collamer.
Q: What if a group isn't the right fit?
A: That's OK! What's important is to keep trying to find where your volunteer passion really is. If you find you're not making an impact or feeling valued, don't be afraid to move on, adds Collamer. "Don't feel guilty about leaving a volunteer role that isn't a good fit." Be sure to talk with neighbors or others in your community about potential opportunities, and check websites such as NeighborhoodOfGood.com. Ultimately, finding something where you can feel connected to the organization can help you make a bigger difference in the lives of others.