How to write wedding thank you notes: A guide for newlyweds
Here's our how-to for newlyweds. Find out who should receive a thank you note, when you should send them and what they should say.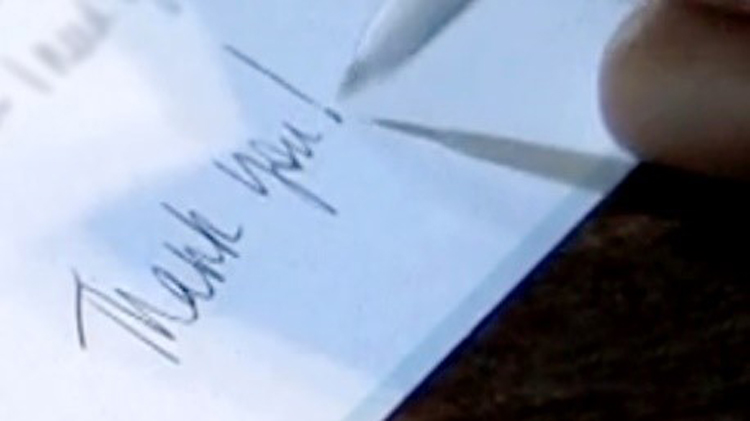 1. Who should receive a thank you note?
Anyone who sent a gift, even if they couldn't attend the wedding.

Every guest at your wedding, regardless of whether they brought a gift. They may not have been able to afford a present, but they were there to help you celebrate.

Your wedding party. They pitched in, played a role in the festivities and provided support.

Your parents and in-laws. A handwritten note is a keepsake of a day that was special to them, too.
2. When should you send them?
According to wedding thank you etiquette, you should try to send your notes within three months of the wedding. You don't have to wait until they're all written to mail them out. You may find it easier to write and send a few at a time until you're done.

Here's a tip to streamline the process: Take your master guest list and add a column for gifts. That way you'll have who gave you what and where to send the note, all in one document.


3. What should they say?
Each one only needs to be a few sentences long. After all, it's a note, not a letter. Here are examples of what to write in wedding thank you cards.
Specify the gift and how you'll use it. Example: Thank you so much for the salad spinner! We're already using it for meal prep.
Same with cash and gift cards. Avoid mentioning the dollar amount, but definitely include how you plan to spend it. Example: Thank you for the generous gift! We hope to use it to buy framed prints for the living room.
End by mentioning that you're glad they participated in your special day. Example: We're so happy you're part of our wedding memories.
The way you close depends on how well you know the person who will receive the note. "Love," "Gratefully," "Warmest regards" are all popular choices.
Dual signatures are a nice touch.
Most of all, have fun! Do your thank you notes together and let each one remind you how special you felt when you received the gift.