How to eliminate dust in your house
A dusty home can make asthma and allergy sufferers uncomfortable. Discover tips to help reduce or eliminate the amount of dust in your house.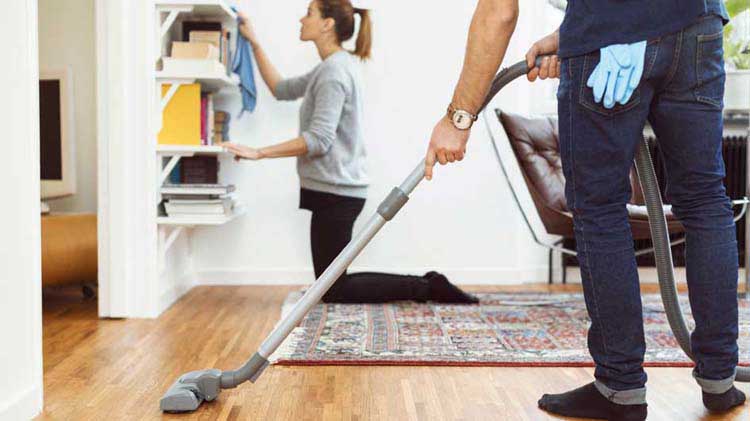 Dust in your home is more than a minor nuisance: Inhaling dust can bring on allergy and asthma symptoms, making sufferers uncomfortable. Learn how to get rid of dust in your house so everyone can breathe easier.
Start with the basics: Dust your surfaces
Try these helpful tips when dusting the various surfaces in your home:
Use the right cleaning tools. Avoid feather dusters and dry rags, which spread dust particles instead of capturing them.

If you dust regularly, a fiber duster allows you to quick and easily pick up the thin, almost invisible layer of dust that accumulates on most surfaces.
If dust has built up, use a microfiber cloth. Microfiber cloths have an electrostatic charge that attracts dust.
For thick layers of dust, a damp cloth works best. The cloths gets the dust wet so it doesn't fly up into the air while you are cleaning.
Q-tips or a small, clean paint brush allows you to get into any cracks in the furniture.

Dust from top to bottom. This makes it easier to collect the loose dust that floats down. Also consider moving around the room in a circular pattern. Use a damp cloth to clean:

Ceiling fans,
Vents,
Window and seals, and
Baseboards.

Electronics: A microfiber cloth will usually do the job. Be sure to vacuum the dust from around the cords and vents.
Finish with a polish. Using a clean rag to apply the polish for a shine to your furniture. But be careful of applying it to glossy finishes as it might add a film that is hard to remove.
And remember, dust the little things as well. Decorations, flowers, knickknacks on the shelves and tables gather dust as well. Move them aside to dust underneath. And before you put them back, wipe them down or rinse them off.
Reduce the dust in the air to help increase the air quality
Regularly dusting can help improve the indoor air quality and overall respiratory health. In addition to dusting, try these tips:
Don't forget about fabric surfaces collecting dust
Follow these tips to tackle dust where it accumulates most — on fabric surfaces.
Use pull-down shades rather than blinds or fabric curtains.
Change and wash your bedding weekly and take your pillows outside to shake them like you would a rug.
Eliminate upholstery dust by choosing leather, wood or vinyl-covered furniture.
Consider carpet alternatives like wood and tile for your flooring. If you want carpet, look for low-pile carpet options and washable rugs.
Store unused clothes and other textiles in boxes or bags, rather than out in the open.
Vacuum at least once a week, regardless of the type of flooring.
Shake out and beat large rugs and cushions with a broom or tennis racket outside.