Portable generator safety tips
Stay safe when you need a portable generator to provide temporary power to your home.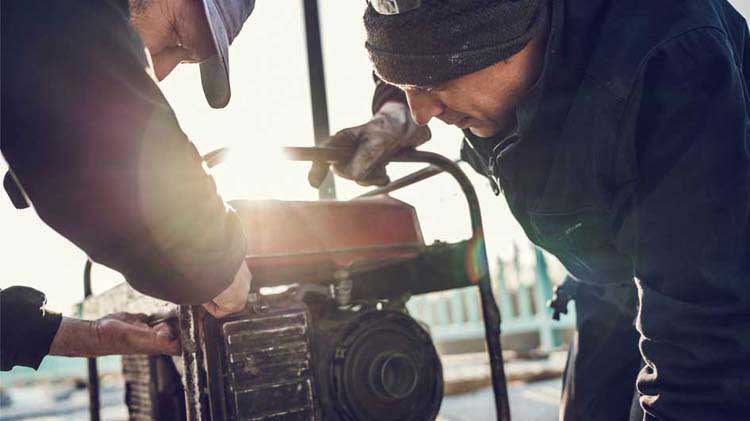 If the electric service is interrupted at your home or you need power in a remote location, a portable generator can provide temporary power when and where you need it. But as convenient as they are, generators are not without their safety hazards. The Consumer Product Safety Commission (CPSC) reports that 54 deaths occurred in 2020 as a result of carbon monoxide (CO) poisoning from generators. And generators also pose potential electrocution and fire safety hazards. Before you use your generator:
Consider the placement of your portable home generator
Before starting your generator, consider the following safety tips:
Be aware of the electricity produced by a generator

Keep generators on dry, level ground outdoors. If you must use a generator in damp or wet conditions, protect the unit with a canopy. Many newer-model generators have built-in ground fault circuit interrupters (GFCIs). If yours doesn't, be sure to use a GFCI with your generator and extension cords for protection in damp or wet conditions.
Check out extension cords that might be used to connect an appliance to the generator. Be sure cords are grounded, and do not use cords if they are cracked, frayed or visibly damaged. Ensure extension cords are appropriately rated in watts or amps for the intended use.
Never plug a generator into a wall outlet. Doing this creates an electrocution risk called backfeeding which can cause an electrical fire in your home and burnout your appliances.
Don't touch a generator with wet hands to avoid electric shock.
Watch for potential fire hazards
Let generators cool before storing or refueling. If fuel spills on the unit's hot engine parts, it could ignite.
Store generator fuel away from other fuels or combustible materials. Never store fuel in your home.
Keep fuel in a proper storage container with clear labeling. Store fuel on a high shelf or in a locked cabinet where children and pets can't get it.
Never smoke near a generator or the fuel.
When the power goes out due to storms, hurricanes, freezing temperatures or other severe weather, it's always unknown how long it will be before the power comes back on. Portable generators provide your home with temporary power but you can also use a permanent generator. Learn more about the differences between permanent and portable home generators as well as energy saving tips while you are using a portable generator.