What not to store under a sink
Reclaim your under sink organizer space to make your home safer and more efficient. Read these helpful ideas that are easy for everyone in your household to follow.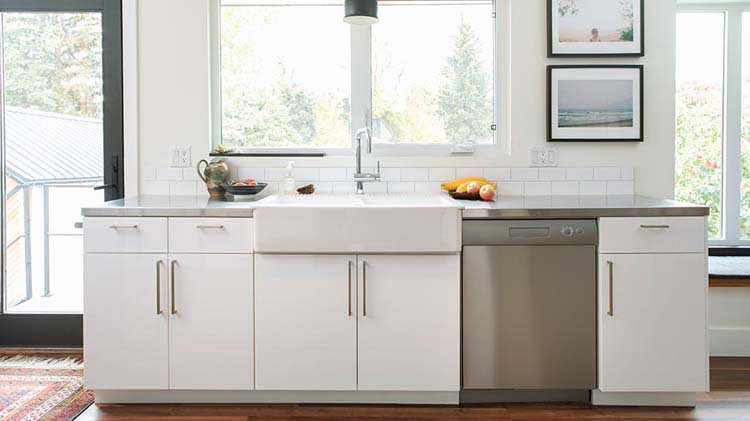 Cleaning products, household extras, and light bulbs: It's easy to store those miscellaneous extras wherever you can find room — especially under the sink. But don't let that space become a catchall. Prone to leaks, dampness and mold, as well as easily accessible to little hands, there are many reasons you should think before you store something under the sink. Here's some do's and don'ts to follow as an under the sink organizer guideline.
What should you not store under the sink?
Cleaners, bug spray, oven cleaner, waxes and polishes: Some cleaning products, including dishwasher pods and colorful spray bottles, can turn into curiosities for paws or tiny fingers. Store liquid and powder cleaners on higher shelves to avoid accidents with pets or young children . (Even natural cleaners can be harmful if ingested.)
Electronics: There's nothing more convenient than having your go-to handheld vacuum easily accessible after dinner, but leaving it under the sink risks damaging it in the event of a leaky pipe or other moisture. Blenders and slow cookers fall into this category, too. Instead, opt to store anything electronic someplace that's fairly insulated from that risk — in the pantry, a hall closet near the kitchen or in the kitchen island or buffet, for example.
Light bulbs: It's tempting to stow spare light bulbs under the sink, but the heavily trafficked cabinet makes the delicate glass easier to smash
And anything you haven't used in a year or two: If you haven't used it in a while, you might not need it. Consider disposing of it appropriately so that it won't pose a potential fire hazard .
What you can store under the sink?
By using plastic containers, you can organize the space under your sink with the following items.
Spare towels: Bonus: Under the sink, they're on hand as reinforcement for unexpected spills.
Plastic containers: Save space by nesting containers from largest to smallest and separating lids.
Dustpan: Stash a small dustpan and brush to quickly sweep up crumbs or dirt.
Recycling: Use the under-the-sink area to sort and store cardboard, paper, glass and recycled plastic.
Bags: Stash garbage bags, recycled bags or reusable grocery bags here.
Sponges: Store extra pan scrubbers and brushes with an over-the-door rack attachment.
Vases: The large space toward the back of cabinet is ideal for keeping a bulky vase or two.
Also, after tackling the space under the sink, take time to review what's in your basement storage and stored in your garage.