Sport, Leisure, and Powersport Vehicles
We know you work hard to get out and enjoy life on your powersport vehicles. That's why we've developed specialty insurance for things like motorcycles, boats, and off-road vehicles. Speak with a State Farm® agent about powersport vehicle insurance and find the right protection for you.

Motorcycles
We offer more protection as a standard for your motorcycle. Ride worry-free, knowing we've got your back.

Boat and Personal Watercraft
There's nothing like getting away from it all and out into the water. We offer quality coverage for your boat and personal watercraft, so you can enjoy the breeze.
Off-Road Vehicles
You're in it for the fun of it, and we totally understand. That's why we offer coverage for your snowmobile, golf cart, ATV and more.

Motorhome
Head out in your home away from home with coverage that meets up to your expectations and needs.
Filing a Claim
If you ever need it, we'll help you through every step of the claims process.
File a Claim
Simple Insights®
Take advantage of what we've learned! Simple Insights® offers great tips and advice to help you maintain and enjoy your sport, leisure, or powersport vehicle to the fullest.
Before you head out for the campgrounds, check out these great camping tips.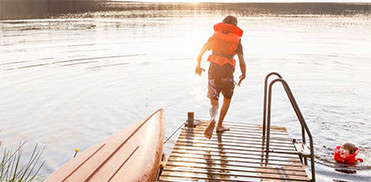 We've got great tips to help you have fun and stay safe on the water.
All-terrain vehicles (ATVs) are a great way to have fun. Check out these great safety tips.
Disclosure:
This is only a general description of available coverages and is not a statement of contract. All coverages are subject to policy provisions and applicable endorsements. For further information, see your State Farm agent.