With all of society's changes, people still value interacting with their neighbors, whether it takes place next door or within a virtual community. However, when it comes to how they connect with each other, several surprising disconnects have emerged.
One of the most traumatizing accidents that can happen to anyone is being bitten or injured by man's best friend. Dog-related injuries result in physical and emotional scars to the victim.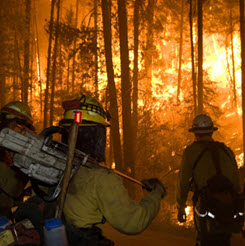 The National Interagency Fire Center reported 68,151 wildfires in the United States last year, scorching more than 10 million acres of land.
State Farm is introducing a new coverage endorsement in several states to help fill insurance gaps for its policyholders who use their personal cars to provide rides for a Transportation Network Company (TNC), like Uber and Lyft.
The end of the school year is a celebratory time for high school students with proms and graduations. With automobile crashes still the leading cause among death for teens*, State Farm wants to help teens and their parents Celebrate Safe, Drive Safe with these tips.