Community involvement
Making where we work and live better
We care about what happens outside of State Farm®. So, we team up with others to help build safer, stronger and better educated communities across the United States.
Community grants
State Farm supports safety, education and community development programs across the country.
Review our areas of focus and how to apply.
Discover how we work to meet needs of underserved students.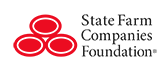 Sponsoring partnerships
We're happy to team up with other brands, organizations or causes that align with our goals and vision. Consider working with State Farm and submit your sponsorship proposal.

Sharing knowledge
Get disaster preparedness and recovery programs based on what we've learned. These tips help you protect what matters.
Good neighbors in action
We love giving back. Check out a few of our favorite employee and agent stories in the newsroom.