Newsroom
Twin Cities LISC – Comprehensive Development in North Minneapolis
In the Twin Cities, State Farm® and LISC have been able to strengthen the capacity of local nonprofit organizations and resident leaders to move a comprehensive community development agenda forward. This is true on Minnesota's North Side, where State Farm and LISC support the North Minneapolis Comprehensive Community Development Group (NoMi CCD)—a collaborative of partners working together to move a vision of a healthy North Minneapolis forward.
North Minneapolis has one of the highest concentrations of low-income residents in the State of Minnesota, and was particularly hard hit during the housing and economic downturns. Job creation, income and wealth building, and economic vitality are among North Minneapolis' most critical needs, and grant support from State Farm and LISC is helping NoMi CCD successfully address these areas. For instance, State Farm and LISC have invested in Emerge Community Development, a co-lead agency of NoMi CCD that operates customized job training and workforce development initiatives.
In 2011 alone, Emerge placed nearly 500 adults and 123 youth into jobs. State Farm grant funds also allowed Emerge to launch a new LISC Financial Opportunity Center (FOC)—a one-stop shop that offers low-income residents a package of bundled services, including employment counseling and job placement, access to income supports, and intensive financial coaching. With grant funding through 2013, State Farm will continue to support Emerge's FOC implementation as well as its development of "Gratia's Annex," a career learning and technology center that will provide basic computer courses, software courses and other information technology training and various certification programs.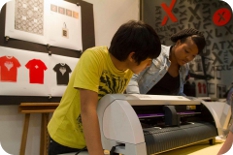 Towards developing a creative entrepreneurship sector, State Farm grant funds through LISC support Juxtaposition Arts—a nonprofit social enterprise that trains young North Side residents in the creative arts industry. After spending time in Juxtaposition Arts' after-school training program, youth are eligible to apply for year-long apprenticeships, which provide job experience and the opportunity for participants to produce custom t-shirts and apparel items, logos, flyers, posters and other art works for local and national customers that contract with the organization.
Juxtaposition Arts employed 44 youth through its apprenticeship programs in 2011. With continued funding through 2013, Juxtaposition Arts will further its apprenticeship program and continue development of a 20,000 square foot, $8.2 million JuxtaLab campus—a commercial and community facility that will house studio space for the youth arts entrepreneurship programs, a gift shop and gallery, a retail boutique, office space and meeting rooms. State Farm's continued commitment to the North Side will also help sustain entrepreneurship development through the Northside Economic Opportunity Network and enhance the Northside Achievement Zone, a coordinated neighborhood initiative that was recently awarded a Promise Neighborhoods grant from the U.S. Department of Education to provide "cradle to college" services that will ensure educational success for youth in North Minneapolis.