Newsroom
Lemay Car Museum
Tacoma, Wash. June 2, 2012 – State Farm® and the automobile grew up together. Now, a new museum, LeMay Car Museum, drives home this relationship through a stunning array of vintage vehicles and high-tech visuals.
LeMay - America's Car Museum opened in Tacoma, Washington, on June 2, and State Farm was there.
The museum touts 15 displays and nearly 400 automobiles. The four story building that sits next to the Tacoma Dome is designed to easily change displays so there will be something new to see virtually every time you go.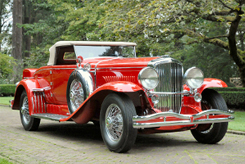 In addition to the building, there is the 3.5 acre Haub Family Field that will host concerts, car shows, and even drive-in movies. Plus, the educational center will attract 100,000 school kids each year with unique exhibits that blend cars, music, film and photos.
State Farm's Assistant Vice President of Marketing Communications, Tim Van Hoof, spoke at the grand opening, welcoming the news media and general public to the unveiling saying, "LeMay is a first-class, family-friendly and education experience."
State Farm's partnership with the museum will allow the half-million visitors each year to see a unique salute to American-made cars screened in the State Farm Theater.
"We look to partner with organizations that align with our values," said Tim. "The LeMay museum is an especially good fit because it tells the stories of American culture through the automobile."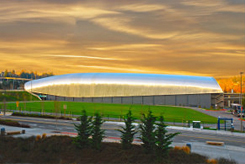 The museum isn't just intended for automobile enthusiasts. "The cool thing about it is there is everything from the fanciest cars you've only seen in movies to cars that bring back nostalgic memories of life," said Brad Hilliard, State Farm Public Affairs Specialist. "There's a station wagon from 1983 on display, and every time I saw someone looking at it they were talking about road trip memories with their families."
"It's got something for everyone. You don't have to be a car lover to enjoy it."
State Farm customers will enjoy a discount on admission and membership into LeMay - America's Car Museum by showing their insurance card.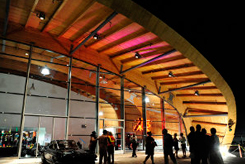 Remaining No. 1 in Auto Safety
State Farm has insured millions of vehicles and supported many effective safety programs throughout its 90-year history. "There weren't a lot of cars in 1922, and as the automobile has grown, this company has grown," Brad said.
State Farm's support of safety initiatives underscores its dedication to:
Building stronger relationships within communities and with customers,
The goal of helping people manage the risks of everyday life, and

Establishing the organization as a business leader that cares about people
"Our commitment to auto safety establishes mutual trust with our policyholders," Brad said. "Initiatives, like Celebrate My Drive, also allow consumers to interact with our brand in fun and unique ways."