Newsroom
Texas "Home for the Holidays" Build Project
Home for the Holidays is a premier blitz build where a home for a deserving family will be built in a short three-week period by State Farm® volunteers. State Farm has provided a Good Neighbor Citizenship (GNC) grant of $60,000 to underwrite the construction cost of this home. Loss Mitigation Coordinator John Hadden has facilitated the donation of an impact resistant roof by Malarkey Roofing.
In addition to a financial donation, State Farm has committed to provide over 100 volunteers which are crucial to building the home.
State Farm is the title sponsor for this house
KVUE-TV, the ABC affiliate in the greater Austin area, is our media partner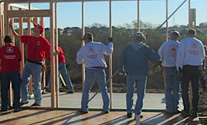 This build project usually starts the week after Thanksgiving with a ceremonial "wall raising" at 8:30 a.m. and concludes with a home dedication on December 17th, three weeks after the start date.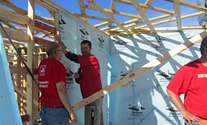 About the Habitat
Habitat for Humanity works throughout the year to find families that qualify for a home. Austin Habitat for Humanity builds homes in partnership with qualifying partner families and the community, and then sells the homes at no profit with zero percent interest mortgages to partnering families.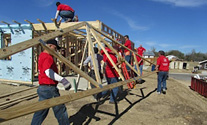 Austin Habitat also works with families in developing the skills, self-confidence, and empowerment necessary for successful living. The process of applying for a Habitat home begins with attending an Orientation Session. The application process takes roughly 4 to 6 months. The sweat equity requirement takes 12 to 18 months. It generally takes about two years to complete the entire process, from the date of the application to the house closing.