Newsroom
Safe Teen Drivers Win Big
No matter the size of the community, keeping new drivers safe on the road is always a priority. The State Farm
Celebrate My Drive®
program does just that by allowing high schools to engage students and communities in spreading a simple message about safe driving, which is Drive 2N2
®
: 2 eyes on the road, 2 hands on the wheel
...Not to mention, their participation in Celebrate My Drive puts their school in a sweepstakes to win $100,000 and a private concert by Echosmith.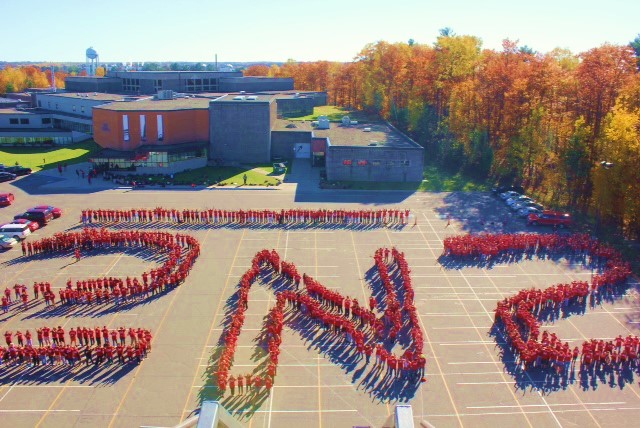 Cascade High School - Iowa
In 2014, with much support from the community as well as local State Farm® Agents Rick Meyer and Rex Massey, Iowa's Cascade High School scored enough votes to take the national grand-prize title for the small school category.
Their journey to the top is an impressive one. From the very beginning, the entire school—including the principal, teachers, and students—was excited to jump on board and share the Drive 2N2 message.
As the campaign gained momentum, Cascade's corridors became roadways as students practiced safe driving by walking responsibly. On top of that, school administrators awarded "Smarties" candy to students who drove to school with their seatbelts on and "Dum Dum" suckers to those who didn't.
Not only did the whole school truly unite to broadcast the #Drive2N2 "2 eyes on the road, 2 hands on the wheel" message within their own hallways but also outside of their walls, to the town.
The high school contacted local businesses, setting up voting stations around town, collaborating with police officers in the area, and making hundreds of calls to citizens, ensuring Cascade High's safety proposal swept across the community in no time.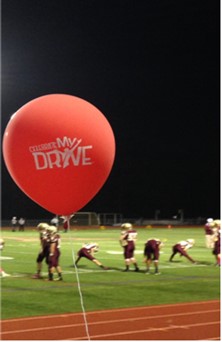 Although the students, faculty and staff, and the entire community always had the grand prize as their goal, every competing school had to wait for the final, official results of Celebrate My Drive once the voting period ended. The school felt confident they had secured one of the $100,000 grant prizes. The real surprise; however, was yet to come as the students were unaware of the grand prize concert that came with the grant to one lucky school.
Not long after the students had stopped cheering for the $100,000 they just scored for their school, a video began playing on the projector and the students were soon out of their seats again. The Band Perry appeared onscreen, congratulating them and announcing they would be coming to Cascade High to perform.
With the $100,000 in hand, Cascade was able to install cameras and lights in its parking lots for school events and a safer driving environment. The funds also enabled the school to purchase new lockers, replace all old and broken classroom blinds, and invest in new classroom furniture for the students.
Ultimately, Cascade's involvement with Celebrate My Drive was about more than just upgrading the building. The challenging, yet incredibly worthwhile, experience not only taught students the significance of safe driving but also united the community to work toward a crucial goal: pledging to drive safely.
Arlington High School – New York
As with every winner's circle, the road to success can be an uphill battle, but New York's Arlington High School was not about to be discouraged.
Students at the high school went all in, creating Arlington Anchor decorating contests and organizing social media campaigns such as Twitter competitions for each grade level. To inspire more participation, the morning announcements included live videos and PSAs, encouraging teens to make life-saving driving choices.
The students' passion for driver safety led them to take top honors at a state PSA contest and seek support from state legislators, non-profits and radio stations, all in the effort to help spread the word to encourage teens to drive smart and safe.
Such was the level of involvement that five Arlington students took top honors in the statewide 10th Annual "Save Your Friends: Over the Airwaves" PSA contest conducted by the NY State Association of Traffic Safety Boards.
Taking it to the next level, Arlington High and State Farm Agent Jen Dunn actively sought support from the Dutchess County Executive, Senate candidates, and local assembly members. They also contacted local radio stations, Fox Oldies, and K104.7, both of which took active roles in the campaign, interviewing Arlington Principal Paul Fanuele and SADD Coordinator Nicole Benedetto.
Arlington High School's level of commitment was so strong that they finished in the Top 50 schools to receive a $25,000 grant. This isn't their first time they earned the grant, proving they are true contenders in the Celebrate My Drive campaign.
In addition to school programs and committees, the funds will go to replace golf carts for safer teen driving as well as improved driver safety seminars and assemblies available to all grade levels. The school plans to keep the rest in reserve for future year programs surrounding character education and additional teen driving safety programs.
Media Contact
Holly Anderson
Media Inquiries
309-735-7745 (office)
309-846-0811 (mobile)
About State Farm®
The mission of State Farm is to help people manage the risks of everyday life, recover from the unexpected, and realize their dreams. State Farm and its affiliates are the largest providers of auto, home and individual life insurance in the United States. Its 18,000 agents and more than 65,000 employees serve more than 82 million policies and accounts – nearly 80 million auto, home, life, health and commercial policies, and nearly 2 million bank accounts. Commercial auto insurance, along with coverage for renters, business owners, boats and motorcycles, is available. State Farm Mutual Automobile Insurance Company is the parent of the State Farm family of companies. State Farm is ranked No. 41 on the 2015 Fortune 500 list of largest companies. For more information, please visit http://www.statefarm.com.