BANKING
State Farm® Student Visa®
Designed to help the post-secondary student establish a solid credit history while enjoying student discounts.
State Farm® Student Visa®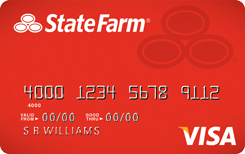 Best card for post-secondary students to help them establish strong credit.
Highlights
No annual fee.1
Competitive rate.
Many student discounts!
A variable rate of 11.24%–18.24% APR based on creditworthiness. This APR will vary with the market based on the Prime Rate.1
State Farm Bank
Stay better connected to your money.
Just use your smartphone