HEALTH
Health
Insurance Plans to MeetYour Needs
Trust Us for Individual Health Insurance
Through a marketing alliance, State Farm® agents in select areas may be able to offer you individual health plans. You could benefit from plans suited to your needs, complete with competitive rates and excellent service.
State Farm Health Plan Availability
Select your state to view individual medical coverage information.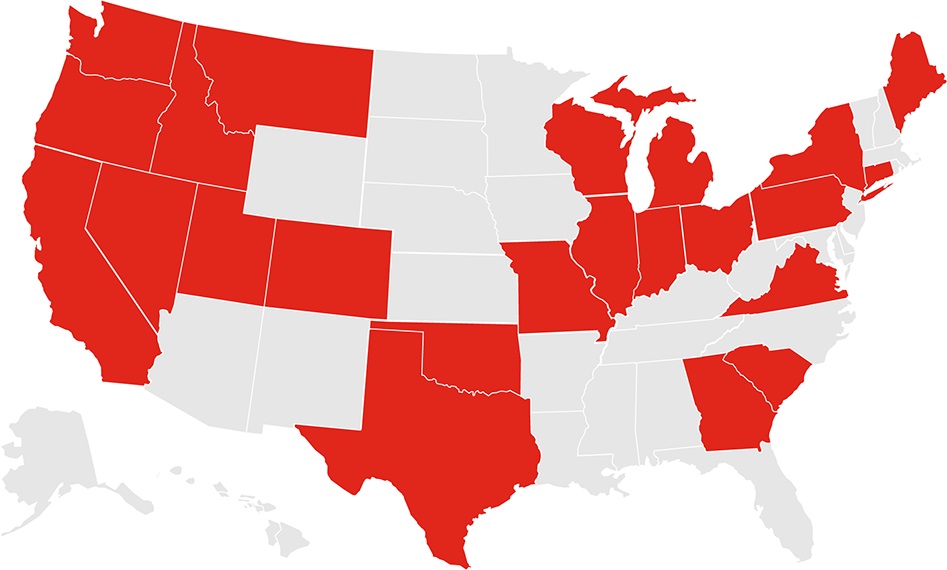 For 2016 Enrollment, Individual Medical Insurance is available in the following states: CA, CO, CT, GA, IL, IN, ME, MI, MO*, MT, NV, NY* OH, OK, SC, TX, VA* and WI*.
*MO, NY, VA, WI: Individual Medical coverage varies, please contact your local State Farm agent to confirm availability.
The Importance of Individual Medical Coverage
Individual medical coverage provides the essential benefits required under the Affordable Care Act. The Act states that most Americans must obtain health insurance with essential coverage or pay a tax penalty. And even if you pay the penalty, you still won't be insured.
Qualifying for Subsidies
Health insurance subsidies lower the amount you spend on your monthly premium through advanced tax credits. Under the Affordable Care Act, Americans making less than 100% of the federal poverty level may qualify for a health insurance subsidy. Learn more about premium subsidies and see if you qualify.
Coverage Effective Dates
When you purchase a new policy between the 1st and 15th day of the month, your coverage will generally begin at the start of the following month. Enroll between the 16th and the last day of the month, and your coverage will begin a month later. For example, if you enroll December 20, your policy will take effect February 1.

Contact your State Farm agent for additional information about individual medical health insurance.
Disclaimer
Blue Cross Blue Shield Association is an association of independent Blue Cross and Blue Shield companies. Blue Cross Blue Shield Association is not a health insurance company and does not sell health insurance. Blue Cross Blue Shield health insurance is provided by your local, independent Blue Cross and Blue Shield companies and is marketed through authorized State Farm agents. Neither State Farm Mutual Automobile Insurance Company nor any of its subsidiaries or affiliates are financially responsible for these products.
IH-29.6