Farm and
ranch
insurance
by
State Farm®
Our very name says we recognize the unique needs of farmers and ranchers. No matter the size of the operation, whether you own or rent, or raise crops or livestock, our policies may be tailored to help meet your unique insurance needs.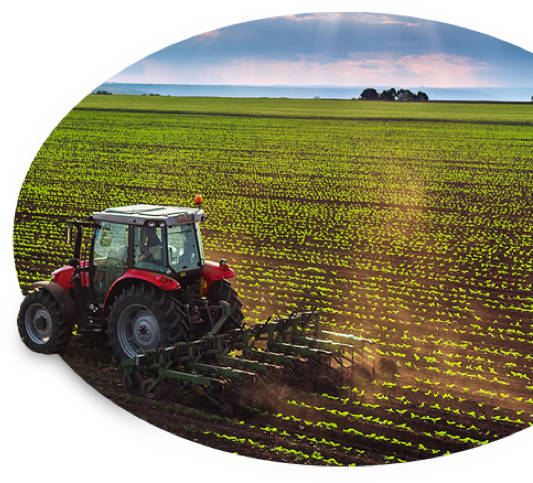 Contact a local State Farm agent
Or call 844-242-1899 844-242-1899 to get a quote
What's covered by farm or ranch insurance
Our protection ranges from farm home and contents, farm personal property, structures or other buildings to liability protection.
The policy range
Provides insurance protection for household personal property in your dwelling, like clothes, furniture, and appliances if you live on your farm or ranch.
Provides insurance protection for the Farm Personal Property (such as farm machinery, grain, livestock, and farm tools) that you use in your farming operations.
Can be customized to cover farm buildings or structures you wish to insure.
Farm and ranch liability protection
Coverage for your legal liability up to the limits in the policy for damages because of bodily injury or property damage resulting from covered claims.
Coverage for medical expenses resulting from covered claims up to the limits in the policy for people who are on your premises with your permission and are accidentally injured. The coverage also extends to people accidentally injured by your activities on the farm or ranch.
Excess liability protection
Depending on the size of your operation, you may need one or both of the policies below. For most, these policies address the types of claims regarding excess losses above the underlying policy for farm equipment on roads, livestock that gets out on roads, or excess above motor vehicles. Talk to your agent for help choosing a policy that best fits your needs.
Commercial liability umbrella
Help for you and your business to pay defense costs and judgments that come from covered claims of professional negligence, error, or omission.
Personal liability umbrella
Additional insurance protection for covered claims, resulting from defamation of character, libel, or slander, that may not be covered by your other policies.
Business auto
Insurance protection for covered claims whether you use your own car or a fleet of pickups, grain trucks, and even trailers to get the job done.
Business life
Choose from a variety of life insurance policies to help your business continue to succeed.
Retirement plans
Attractive benefits packages to help you recruit and retain the best people.
Protect your place from electrical fires
State Farm and Ting could help you prevent electrical fires before they happen – for free.
Protect your home from wildfire threats1
In Arizona, Colorado, Oregon and Washington, Wildfire Defense Systems, Inc. will help protect your property on behalf of State Farm – at no additional cost to you – if a wildfire puts your home in harm's way.
1 Available to State Farm homeowners and farm policyholders and subject to policy terms and conditions. This is not a guarantee that services will be dispatched or that damage from wildfires will be prevented or reduced.
Disclosures
This information contains only a general description of coverages and is not a contract. Details of coverage or limits vary in some states. All coverages are subject to the terms, provisions, exclusions, and conditions in the policy itself and in any endorsements.
State Farm® (including State Farm Mutual Automobile Insurance Company and its subsidiaries and affiliates) is not responsible for, and does not endorse or approve, either implicitly or explicitly, the content of any third party sites hyperlinked from this page. State Farm has no discretion to alter, update, or control the content on the hyperlinked, third party site. Access to third party sites is at the user's own risk, is being provided for informational purposes only and is not a solicitation to buy or sell any of the products which may be referenced on such third party sites.
State Farm Fire and Casualty Company
Bloomington, IL
State Farm General Insurance Company
Bloomington, IL
State Farm Florida Insurance Company
Winter Haven, FL
State Farm Lloyds
Richardson, TX