HOME & PROPERTY
There for What Matters Most
Homeowners Insurance
More homeowners choose State Farm® as their home insurance company over any other insurer. Make the move to protect your home and family. Plus, save money when you have both a home and car insurance policy with State Farm®.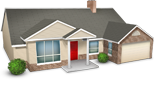 Know Your Homeowners Insurance Coverage
Homeowners insurance may cover losses to covered property caused by:*
Weather: Storms, fire, wind, hail, lightning, freezing of a plumbing system, weight of ice, snow or sleet
Non-weather: Theft, vandalism, riots, aircraft and vehicles
Accidental Direct Physical Loss: Water from plumbing, tearing/bulging of heating or cooling systems, artificially generated electrical current
* Please refer to your actual policy for a complete list of covered property and covered losses.
Simple Insights® by State Farm
Take advantage of what we've learned through the years in Simple Insights®.
Disclosures
Discount, policies, and programs and their availability vary by state and eligibility requirements.
This information contains only a general description of coverages and is not a contract. Details of coverage or limits vary in some states. All coverages are subject to the terms, provisions, exclusions, and conditions in the policy itself and in any endorsements.
Discount offers on home security products are not available in all states and may require an eligible State Farm Auto or Fire policy. Discount offers not available in Alaska, New York, North Dakota, Pennsylvania, or South Dakota. State Farm customers in Indiana, and North Carolina must have a State Farm Auto policy to be eligible for the discount offer. Discount offers only available in the US. Products and services are offered by third parties and State Farm does not warrant the merchantability, fitness, or quality of the products and services of the third parties.
State Farm Fire and Casualty Company
Bloomington, IL
State Farm General Insurance Company
Bloomington, IL
State Farm Florida Insurance Company
Winter Haven, FL
State Farm Lloyds
Richardson, TX