BANKING
State Farm® Student Visa®
Made just for students, offering a competitive rate while earning points in the State Farm Loyalty Rewards program.
State Farm Bank® deposit accounts are FDIC insured.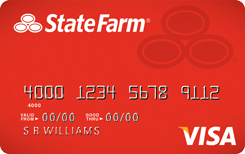 Highlights
Earn 1 State Farm Loyalty RewardsTM point for every $2 spent on purchases.1
Earn 3 points for every $1 spent on Net Eligible Insurance Premium Payments, up to $4,000 annually.1
Competitive annual percentage rates.
Many student discounts provided by Visa.
No annual fee.4
Rates
A variable rate of 11.24%–18.24% Annual Percentage Rate (APR) based on creditworthiness. This APR will vary with the market based on the Prime Rate.4
Details
State Farm Bank
Stay better connected to your money. Just use your smartphone.
1 Earn 3 State Farm Loyalty Rewards points for every $1 spent on the first $4,000 of any Net Eligible Insurance Premium Payments made annually. Net Eligible Insurance Premium Payments are insurance premium payments made on your State Farm Rewards Visa minus any returns, chargebacks or adjustments deducted from your points balance. The $4,000 threshold will be counted on an annual (January-December) basis. Points are earned based on merchant codes that are assigned to the merchant based on their primary line of business. Purchases that do not have the appropriate merchant code will affect your ability to earn points or the rate at which you earn points. Earn 1 State Farm Loyalty Rewards point for each $2 spent on all other purchases. Balance transfers do not earn State Farm Loyalty Rewards points. Your points do not expire; however, your points may be suspended or you may lose points if your account is not in good standing or is closed.
Purchases through a third party payment account, digital wallets, or similar technology will not earn points.
2 Eligible State Farm Bank products include deposit accounts, mortgages and consumer loans. Eligible State Farm products offered by affiliates of State Farm Bank include property and casualty insurance, life insurance, annuities, and mutual funds.
3 Not all State Farm products to which you may apply your State Farm Loyalty Rewards points qualify for a redemption premium. Only the following State Farm products are eligible:
Single redemptions to a qualifying State Farm Mutual Funds®, State Farm Life product, or a State Farm Bank Checking/Interest Checking account will earn a redemption premium as follows:
Points Redeemed / Premium
0-24,999 points — No Premium
25,000 - 49,999 — 25% Premium
50,000 - 99,999 — 35% Premium
100,000 - greater — 50% Premium
4 See Important Account Disclosures [PDF-104.3KB]
5 Certain terms, conditions, and exclusions apply. In order for coverage to apply you must use your covered Visa card to secure transactions. Please call 877-SF4-VISA (877-734-8472) for additional details.
State Farm Bank®, Bloomington, Illinois, is a Member FDIC and Equal Housing Lender. NMLS ID 139716. The other products offered by affiliate companies of State Farm Bank??are not FDIC insured, not a State Farm Bank obligation or guaranteed by State Farm Bank, and subject to investment risk, including possible loss of principal invested. Contact State Farm Bank toll-free at 877-SF4-VISA (877-734-8472). Callers who are hearing or speech impaired should dial 711 or use a preferred Telecommunications Relay Service.