HOME & PROPERTY
Home Insurance Starts with Great Insurance Discounts
You may qualify for State Farm® discounts to help you get more affordable home insurance.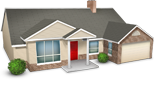 Types of Home Insurance Discounts
Multiple Line Discount
When you purchase various insurance policies from State Farm, you could be eligible for auto and home insurance premium discounts.
Home Alert Protection Discount
You may qualify for homeowners insurance discounts if you have installed fire, smoke, or burglar alarms or any other home monitoring system. Contact your State Farm agent to see if you are eligible for the Home Alert Protection insurance discount.
Higher Deductibles
In addition, choosing a higher deductible may result in more affordable home insurance. Higher deductibles lower your premium, but increase the amount for which you are responsible if a covered loss occurs. How much risk are you financially able to assume on your own in order to lower your monthly premium?
Simple Insights® by State Farm
Take advantage of what we've learned through the years in Simple Insights®.
Disclosure
Not all Homeowners insurance discounts described above are available in all states.