Protect Every Member of the Family (Including Your Cats and Dogs)
Our pets do so much for us. They're great listeners. They keep us warm. And they love us no matter what. So when our pets need medical attention, the last thing we should have to worry about is cost. Unfortunately, countless pet owners find themselves in that position every year.
We want to help, so we're working with Trupanion – a leader in pet insurance – to make it easier for pet owners to give their furry family members the care they need.
What Is Pet Medical Insurance?
Pet medical insurance from Trupanion is a great way to provide for your pet when it needs you most.
Pay a small monthly premium, and when your cat or dog requires veterinary care, pay the bill at the time of service. Trupanion will reimburse you for 90% of all covered care, less your deductible.footnote[1] In many cases, Trupanion can even pay your vet directly, so you won't wait for reimbursement.
Given the high cost of veterinary care, saving 90% (less your deductible) – even on routine medical procedures – really adds up.
What's Covered:
All illnesses and injuries, including but not limited to:

Bite wounds
Foreign body ingestion
Patella luxation

All conditions your breed may be prone to (hereditary and congenital) including:

Cherry eye
Diabetes
Hip dysplasia
Thyroid disease

Diagnostic tests
Surgeries
Hospital stays
Medications
Veterinary supplements
Herbal therapy
Prosthetic devices and carts
What's Not Covered:
Exam fees
Your deductible, which only has to be met once per injury or illness
Sales tax, where applicable
Wellness and preventative care
Pre-existing conditions[2]
Incidents that occur during the policy's waiting period[3] (5 days from policy enrollment for injuries; 30 days from policy enrollment for illnesses)
Elective, cosmetic, or preventive procedures (for example, ear cropping or dew claw removal)
Why Trupanion?
Trupanion is a recognized leader in pet insurance, with a high-quality, no-nonsense coverage plan.

One Simple Plan
All pets insured by Trupanion get their best coverage with a single, easy-to-understand plan.
Vet Direct Pay
In many cases, Trupanion can pay your veterinarian directly—just pay your portion at the time of service.
No Payout Limits
While insured, your pet receives unlimited coverage without any caps.
90% Coverage
Once you've met your deductible, you're only responsible for 10% of the costs of all covered veterinary care—Trupanion pays the remaining 90%footnote[4].
Why State Farm?
For nearly 100 years, people have turned to State Farm to protect what matters most to them.
One Source for All Your Insurance Needs
With more than 100 products for nearly every purpose and lifestyle, State Farm is a great choice for insurance.
A Name You Know and Trust
With State Farm, you can count on high-quality insurance protection at a fair price. For your life, your vehicles, and your pets, too!
Simple Insights® by State Farm
Take advantage of what we've learned through the years in Simple Insights®.
Safety first – even for your four-legged passengers.
Maintenance must-dos help keep your home and yard safe for your family's furriest members.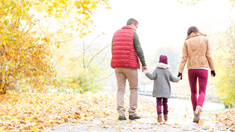 Walkies! Keeping your dog safe while walking with the family.
Pet insurance products are underwritten by American Pet Insurance Company.
State Farm (including State Farm Mutual Automobile Insurance Company and its subsidiaries and affiliates) is not responsible for, and does not endorse or approve, either implicitly or explicitly, the content of any third party sites referenced in this material. Products and services are offered by third parties and State Farm does not warrant the merchantability, fitness or quality of the products and services of the third parties.