Collector & classic car insurance for your pride and joy
Whether you lovingly rebuilt your antique auto or classic car from the ground up or you bought a perfectly restored showpiece, it's much more than a car to you. It's your passion. Unlike a new vehicle, an antique car can appreciate in value, so its insurance differs. State Farm® can help protect it.
Contact a State Farm agent
Protecting your antique and classic vehicles
What's antique or classic?
Just because it's old, doesn't make it an antique, nor a classic. The industry offers definitions that allow your baby to qualify for specific types of coverage.
Classic automobile
A motor vehicle 10 to 24 years old that has historical interest.
Antique automobile
A motor vehicle over 24 years old that has historic interest.
What kind of car is eligible?
To qualify for classic car insurance, your vehicle can't just have years invested.
Your antique or classic car must be used on a very limited basis, such as infrequent pleasure driving, shows, exhibitions, club activities or parades. It can't be your primary use vehicle.
You need to have restored, maintained, or preserved your antique or classic car or it must be actively undergoing restoration.* (Some insurers may decline coverage if the vehicle is not in excellent condition).
It must be stored in an enclosed building.
* Under Construction coverage is available for restoration projects.
Available coverages for your vintage car1
State Farm offers more ways to protect that ride that's still turning heads.
Classic car insurance costs
What factors help determine the premium you may pay?
Agreed value
Because these unique cars have no "book value," a value must be agreed to for the policy. The higher the value the more the policy will cover and this will affect the premium. To come to an agreement on value, you and your agent can weigh many factors like age; condition; type of car, such as kit cars.
Deductibles
The amount you are willing to pay as a deductible will affect your costs and raising the deductible will lower your premium.
Why choose State Farm for your classic car coverage?
You and State Farm will agree on the value of the car
If the car experiences a total covered loss, we will pay the agreed-upon value, rather than the actual cash value of the car as long as parts have not been removed and the car's condition has not deteriorated because of abuse or neglect.**
Up to $500 coverage for your car's spare parts
24-hour Good Neighbor Service
During the day or in the middle of the night, you can call your agent's number and speak with a State Farm representative to handle your antique auto or classic car insurance needs.
**
Not applicable in Massachusetts and North Carolina — Contact your
State Farm agent
for details.
State Farm collector car knowledge
The Vehicle Research team at State Farm took training to a one-of-a-kind level, building a "Split Camaro." A 1968 Chevrolet Camaro RS convertible was built as a half-and-half, split-personality car for training purposes.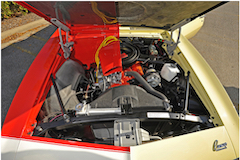 The idea of the car roared to life in 2005, to create two training aids: a fully restored vehicle and a modified vehicle. The restored side in yellow was built back to its factory specifications, with a few minor modifications used as teaching points. The modified side in red represents what a person might build in their garage at home, with inexact repairs and plans to drive and enjoy the car.
In addition to serving as an eye-catching car-show display piece, this car was built by State Farm employees who enjoy restoring cars and have fun working on them, both personally and professionally. Antique and classic automobiles are insured on an agreed value basis, meaning that the insured and State Farm agree on the value of the car in the event of a total loss.
Watch this video to see the opportunity State Farm's Earl Hyser had to illustrate the impact of modifications on insurance rates and vehicle value.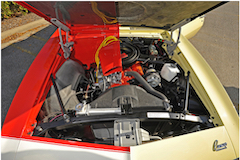 Got more questions about vehicle insurance?
1 This is only a general description of coverages and is not a statement of contract. All coverages are subject to all policy provisions and applicable endorsements and may vary by state. Nor is this an application for insurance. For further information on antique auto and classic car insurance, contact a State Farm agent.
State Farm Classic Insurance Company
Bloomington, IL
State Farm Mutual Automobile Insurance Company
State Farm Indemnity Company
Bloomington, IL
State Farm County Mutual Insurance Company of Texas
Richardson, TX