Car Insurance by State Farm®
Shopping for car insurance? You've come to the right place! State Farm keeps you and your family covered with great auto insurance that's also a great value. Get an online auto insurance quote, or find a car insurance agent or representative, any time, day or night. Either way, you'll learn how competitively priced auto insurance from the industry leader can be.
Get an online auto insurance quote – it's fast and easy.
Nearly 18,000 agents nationwide – chances are there's one near you.
Already a State Farm auto insurance customer? Make a payment, log in, or register for online account access.
Find Out What Sets State Farm Apart
At first glance, insurance companies probably all look alike. But there's a reason why so many people insure their vehicles through State Farm. Actually, there are several.
Check out our long-term financial strength and reliability – Auto Insurance Ratings.
State Farm is the largest auto insurance provider in the US.1
Personal service from thousands of local agents.
Save Money with Auto Insurance Discounts
Want to save money on insurance? We thought you might. Which is why we have a list of potential discounts that make our industry-leading insurance even more competitive.
Auto Insurance Coverage Options
When it comes to auto insurance, you have plenty of options. Fortunately, we've got thousands of agents who are happy to help choose the ones that are just right for you!
Let's talk about what's important to you! Schedule an appointment with your State Farm agent and together we can discuss how State Farm can help life go right.
State Farm Mobile Doesn't Mind if it's After Hours
Pay bills. File claims. And more.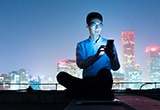 Take The Wheel When Maintaining Your Car
Receive competitive quotes to compare and even pay online.
Powered by Openbay
Disclaimer
1Ranking and data from S&P Global Market Intelligence, based on direct premiums written as of 2018.
State Farm (including State Farm Mutual Automobile Insurance Company and its subsidiaries and affiliates) is not responsible for, and does not endorse or approve, either implicitly or explicitly, the content of any third party sites hyperlinked from this page. State Farm has no discretion to alter, update, or control the content on the hyperlinked, third party site. Access to third party sites is at the user's own risk, is being provided for informational purposes only and is not a solicitation to buy or sell any of the products which may be referenced on such third party sites.
Please remember that the preceding descriptions contain only a general description of available coverages and are not a statement of contract. All coverages are subject to all policy provisions and applicable endorsements. Coverage options may vary by state. To learn more about auto insurance coverage in your state, find a State Farm agent.
State Farm Mutual Automobile Insurance Company
State Farm Indemnity Company
Bloomington, IL
State Farm County Mutual Insurance Company of Texas
Richardson, TX