AUTO
Steer Clear® –
Driver Discount Program
Enroll and Enjoy Insurance Discounts
The Steer Clear Driver Program is more than just an auto insurance discount for licensed and safe drivers under the age of 25, it's a great opportunity to review and improve your driving skills. Who can't use a little refresher course? And, if there is a Steer Clear discount in your state, why pass up the opportunity to lower the cost of your auto insurance?

3 Ways to Complete the Program and Earn Safe Driver Discount Auto Insurance
In order to qualify for the discount, you must be under 25 years of age, have had no at-fault accidents or violations during the past 3 years and complete the Steer Clear program in one of three convenient ways:
Your Agent
Your State Farm® agent can provide any assistance you need to complete the on-line or mobile app Steer Clear program materials.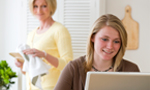 Online
All of the program materials, including the Steer Clear video Rearview, are now available online.
(Desktop computer with PDF reader and printer recommended.)
Mobile
Download the Steer Clear Mobile App on your iPhone, iPod Touch, or Android (OS 1.6 and above) and complete the program anytime, anywhere.
Disclaimer
Steer Clear Safe Driver Discount Auto Insurance is not available in every state. For additional information, please contact your State Farm® agent.
State Farm Mutual Automobile Insurance Company
State Farm Indemnity Company
Bloomington, IL
State Farm County Mutual Insurance Company of Texas
Richardson, TX