COMPANY OVERVIEW
A Long Track Record Of Success
Why Buy Life Insurance From State Farm®?
Why buy life insurance from State Farm Life Insurance Company (Not licensed in MA, NY or WI) or State Farm Life and Accident Assurance Company (Licensed in NY and WI)? We've been committed to meeting customer needs since 1929 — and today, our company has more than 7.8 million life insurance and annuity policies in force. For well over 80 years we have helped our policyholders protect their loved ones' financial futures.
Our company mission is to help people manage the risks of everyday life, recover from the unexpected, and realize their dreams. Our success is built on a foundation of shared values, quality service and relationships, mutual trust, integrity, and financial strength.

Highest in Customer Satisfaction
State Farm Life has coverage options to fit your needs and budget. Choose the company J.D. Power ranks highest in customer satisfaction among Life Insurance providers, five years in a row.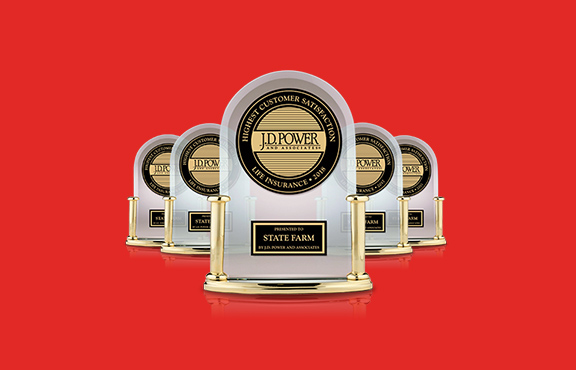 Our Philosophy
No matter where you are in life, we're committed to helping you live confidently – every day. That begins by understanding your unique needs and providing the information and guidance to help you make smart decisions for your family and their financial future.
Ask our policyholders why they buy life insurance from State Farm, and they'll likely say our "good neighbor" service. With a State Farm agent on your side, you'll get guidance to help you find the right coverage that fits your needs. You can also call your agent's office to speak with a knowledgeable State Farm representative in case you have questions about your coverage or want to make a claim.
Our Performance, Strength and Stability
Our top financial ratings are an important reason why so many individuals buy life insurance from our company. Major independent rating agencies have consistently recognized our financial stability, solid product portfolio, claims-paying ability and excellent asset quality.
Financial Ratings
A.M. Best®
A++
1st out of 16 rankings as of 7/16/15
Moody's®
Aa1
2nd out of 21 rankings as of 4/20/15
Standard & Poor's
AA
3rd out of 21 rankings as of 7/17/15
A Conservative Investing Strategy
Another factor in why customers buy State Farm life insurance is our conservative investing strategy. When our company invests your premiums, our strategy is geared for the long term. That's why we've invested the vast majority of our bond portfolio in high quality investment-grade bonds.
Competitive Product Options
Our commitment to you is to provide a broad array of products that help meet your needs and perform well over time. We develop our products and manage our business by maintaining a long-term business focus for the benefit of our policyholders.
How Much Life Insurance Do You Need?

Disclosure/Footnotes
State Farm received the highest score in the J.D. Power 2014-2018 U.S. Life Insurance Study of customers' satisfaction with their life insurance provider. Press Release.
For more details on coverage, costs, restrictions, and renewability, or to apply for coverage, contact a local State Farm agent.
Issued by:
State Farm Life Insurance Company (Not Licensed in MA, NY, or WI)
State Farm Life and Accident Assurance Company (Licensed in NY and WI)
Bloomington, IL
Each insurer is financially responsible for its own products.
IL-502.5