COMPANY OVERVIEW
Experience for Yourself
How State Farm® Insurance Agents Serve You
What Can My State Farm Agent Do for Me?
Agents
State Farm Insurance agents are individuals who live and work in your community. They can provide guidance on the many products State Farm offers to help people manage the risks of everyday life, recover from the unexpected, and realize their dreams.

State Farm Agents:
Provide valuable information about insurance, the risks that make it necessary, how to protect yourself from those risks, and help you take action to achieve your most important goals.
Help you select an insurance policy that works for you, whether your insurance needs are auto Insurance, home Insurance, life Insurance, or health Insurance.

Provide information on a variety of loan and deposit products at competitive interest rates through State Farm Bank®.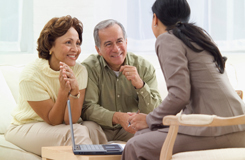 Disclosure
State Farm Bank, Bloomington, Illinois, is a Member FDIC and Equal Housing Lender. The other products offered by affiliate companies of State Farm Bank are not FDIC insured, not a State Farm Bank obligation or guaranteed by State Farm Bank, and subject to investment risk, including possible loss of principal invested. Contact State Farm Bank toll-free at 877-SF4-BANK (877-734-2265).