INNOVATION & RESEARCH
There for You Whenever, Wherever
MoveTools® for iPad
Your next move just got a little easier.
Designed specifically for the iPad, MoveTools for iPad gives you everything you need to manage your move from start to finish.
No more cramming stuff in boxes at the last minute or wondering where your toaster went. Now you can virtually pack every room in your house, stay organized with recommended tasks, and create packing labels that display the contents of boxes without opening them.
All the moving tools you need — in one great app.
Key Features to Simplify Your Move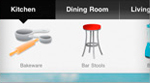 Don't Have a Tablet? We Can Still Help You Move.
Learn
Read articles that will help make your next move a smoother one.
View articles