Claims Help
Help Protect Your Business and Employees with Workers' Compensation Insurance
A workers' compensation insurance policy provides benefits to employees for injuries and illnesses arising out of and in the course of employment. The policy may provide payment for medical treatment, temporary and permanent disability and death benefits. Workers' Compensation insurance is required in almost every state. Workers' compensation provides valuable benefits to your employees while protecting your business from legal exposure. Each state's statutes and regulations, as they apply to workers' compensation, vary significantly.
Contact your State Farm™ agent to find out more about obtaining a State Farm Workers' Compensation policy in your state.
Claims Kit Information:
To help comply with your state(s) workers' compensation laws and regulations, required posters are available to you online. It is YOUR RESPONSIBILITY TO POST this information as required by the state(s) in which you conduct business.
To get information on the workers' compensation laws in the state you operate in, obtain your Claims Kit and select the state where your business is located. The information on the right side of the page includes state required bulletins and posters that need to be printed and displayed in your place of business.
In addition, while we hope you never experience a workplace injury, we want you to be prepared in the event you need to report a claim. You can also download and print the First Report of Injury document from the same web page.
On the right side of the page you will locate the "First Report of Injury," which is YOUR RESPONSIBILITY TO USE TO NOTIFY US OF ALL EMPLOYEE INJURIES as soon as the injury occurs. In addition, the information on the left side of the page is what you will need when reporting a claim, including phone and fax numbers and mailing address.
Loss Control Services and Resources
We're here with free resources to help you identify and mitigate some of the most common causes of business losses.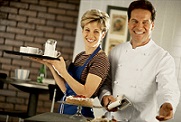 Disclaimers
This is only a general description of coverages of the available types of insurance and is not a statement of contract. Details of coverage, limits, or services may not be available for all businesses and vary in some states. All coverages are subject to the terms, provisions, exclusions, and conditions in the policy itself and in any endorsements.