MUTUAL FUNDS
Manage your Accounts
Access Your Existing State Farm Mutual Funds® Accounts
State Farm® is making some exciting changes to enhance our mutual funds products. We are working to expand your investment options and agents' ability to help meet your investment planning goals. We have taken an important step by recommending a merger of State Farm mutual funds with BlackRock® and American Funds®. Once approved by fund shareholders, we expect the merger to happen in mid-November.
Learn more about the proposed reorganization
Already have an account with State Farm and need assistance with managing your account? Check out the resources below.
Manage Your Account
Looking to purchase or redeem shares? Check out the many articles to help you manage your account and learn how to:

Access Your Accounts
View your account information and process transactions online by logging into your account.
If you have a 529 savings plan, or a State Farm 401(k), SEP, SIMPLE plan, use the links below to access your account.

Fund Information
LifePath® Funds
LifePath Funds adjust their portfolio over time. So, you can spend less time maintaining and more time living.
Stock Funds
Stock Funds invest in both small and large companies and are designed to help with long-term growth. Our stock funds match growth potential with risk to fit your comfort level.
Index Funds
Index Funds invest in companies based on well-known stock indexes, like the S&P 500® Index or Russell 2000® Index. The goal is long-term growth.
Bond and Money Market Funds
Bond Funds invest in bonds or other securities to create a steady return stream. Money Market Funds invest in historically high-liquid money market securities and are less risky than stock funds.

Investing Resources
Become more informed by using these resources to manage your investments. After all, you're investing for your future. 

Tax Center
Wondering how to use your tax refund wisely or how to keep good records for tax purposes? Go to our Tax Center to learn more about some of the ins and outs on these and many other topics:
Expected tax mailing dates
Dividend and capital gain distributions
Summary of tax forms
Risk Disclosures
An investor should consider the Plan's investment objectives, risks, charges and expenses before investing. The Program Disclosure Statement at www.statefarm.com which contains more information, should be read carefully before investing.
Investors should consider before investing whether their or their beneficiary's home state offers any state tax or other state benefits such as financial aid, scholarship funds, and protection from creditors that are only available for investments in such state's qualified tuition program and should consult their tax advisor, attorney and/or other advisor regarding their specific legal, investment or tax situation.
This material is provided for general and educational purposes only and is not intended to provide legal, tax or investment advice, or for use to avoid penalties that may be imposed under U.S. federal tax laws. This material is not an offer to sell or a solicitation of an offer to buy any securities. Any offer to sell units within the Plan may only be made by the Program Disclosure Statement and Participation Agreement relating to the Plan.
Nebraska Educational Savings Plan Trust Issuer
Nebraska State Treasurer Trustee
Nebraska Investment Council Investment Oversight
First National Bank of Omaha Program Manager
State Farm VP Management Corp Selling Dealer
First National Capital Markets, Inc. Distributor, Member FINRA, SIPC
First National Capital Markets and First National Bank of Omaha are affiliates.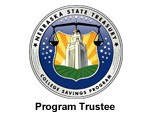 Before investing, consider the funds' investment objectives, risks, charges and expenses. Contact State Farm VP Management Corp (800-447-4930) for a prospectus or summary prospectus containing this and other information. Read it carefully.
Target Date Funds are portfolios whose investment objectives are adjusted over time to be more conservative as the target date (date the investor plans to start withdrawing their funds) approaches. The principal value of the fund(s) is not guaranteed at any time, including at the target date.
The stocks of small companies are more volatile than the stocks of larger, more established companies.
Foreign investments involve greater risks than U.S. investments, including political and economic risks and the risk of currency fluctuations.
Bonds are subject to interest rate risk and may decline in value due to an increase in interest rates.
You could lose money by investing in the Money Market Fund. Although the Fund seeks to preserve the value of your investment at $1.00 per share, it cannot guarantee it will do so. An investment in the Fund is not a deposit of a bank and is not insured or guaranteed by the Federal Deposit Insurance Corporation ("FDIC") or any other government agency. The Fund's sponsor has no legal obligation to provide financial support to the Fund, and you should not expect that the sponsor will provide financial support to the Fund at any time.
AP2018/09/1062
No Bank Guarantee
May Lose Value