Mutual Funds
Establishing Your Investment Goals
Through life event changes as well as changes in the markets, we understand you aren't simply investing your hard-earned money in our mutual funds. You are also investing your trust in us. We understand there are all different types of investors. That's why the suggestions we make and the investment strategy we help you create will be informed by working through the following steps together:
Analyzing where you are today
Identifying gaps with where you want to be
Looking at strategies to close those gaps
Getting you on track to achieve your goals
We'll do all of this thoroughly, thoughtfully and methodically. Because we're committed to the idea that the best financial relationships are about mutual understanding, not just about buying mutual funds. And it all starts with a conversation about what's most important to you. Contact a State Farm® registered agent.
Selecting Mutual Funds
How Your Investment Account Works
With as little as $1,000, our wide variety of account types lets you control and direct trading of funds within different fund families. The wide range of choices offered by American Funds® by Capital Group® and BlackRock® gives you more flexibility to work toward goals that could be right around the corner or as far away as retirement.
Our fund offering spans a broad range of asset classes
U.S. Equity
International Equity
Target Date
Allocation
Specialty
Taxable Bond
Municipal Bond
Money Market
Account Types:
Tax-Qualified Accounts
Traditional IRA
Roth IRA
Inherited Traditional IRA
Inherited Roth IRA
Investment Accounts
Individual
Individual Transfer on Death (TOD)
Joint Transfer on Death (TOD)
Joint with Rights of Survivorship (JWROS)
Joint Tenants and Common (TIC)
Joint Community Property
Education Savings
16 Investment Choices
Age-Based and Static Investment Portfolios
For help with your specific needs, contact a State Farm® registered agent.
Staying on Track
Help keep today's distractions from derailing tomorrow's goals.
A lot can happen between the time you open your mutual funds account and when you expect to use your money.
This is why one of the biggest advantages of working with a State Farm registered agent is having access to someone who's available when you have questions or concerns about changes in the market or in your life. A professional you can count on to stay objective, respond rationally and who will be committed to helping you stay on track. Contact a State Farm® registered agent.
Inconsistent Investing Can Mean Lower Returns
The charts below illustrate that, rather than following trends during market highs and lows, investors may be better served by staying invested during all stages of the market.
(December 31, 2007 - December 31, 2017)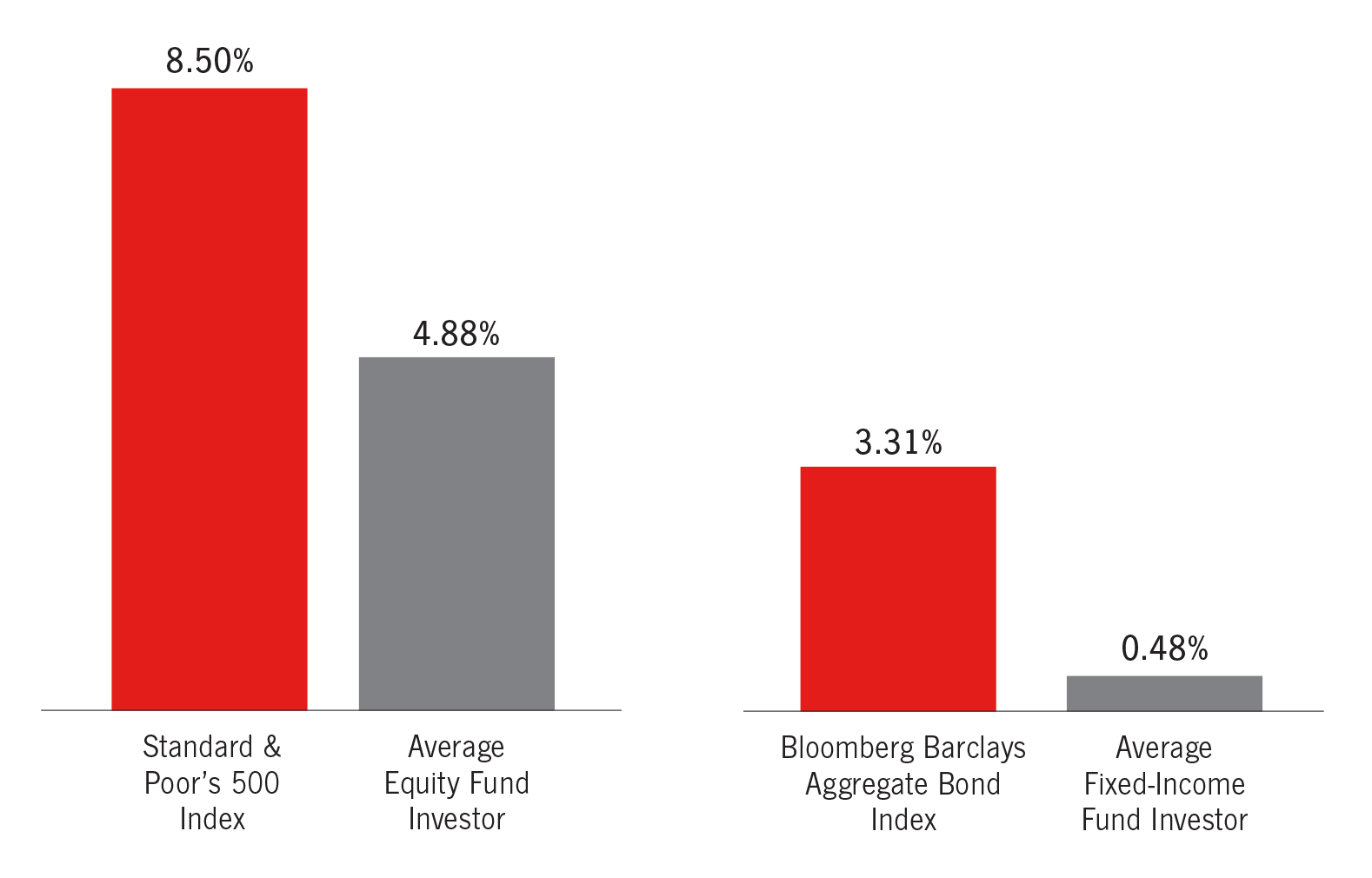 Returns for Average Equity and Fixed-Income Investors Calculated by DALBAR
DALBAR uses data from the Investment Company Institute (ICI), Standard & Poor's, Bloomberg Barclays Indices and proprietary sources to compare mutual fund investor returns to an appropriate set of benchmarks. The study utilizes mutual fund sales, redemptions and exchanges each month as the measure of investor behavior. These behaviors reflect the "average investor." Based on this behavior, the analysis calculates the "average investor return" for various periods. These results are then compared to the returns of respective indexes. Ending values for the indexes and hypothetical equity and fixed-income investor investments are based on average annual total returns.
Standard & Poor's 500 Composite Index is a market capitalization-weighted index based on the results of 500 widely held common stocks. Bloomberg Barclays U.S. Aggregate Index represents the U.S. investment-grade fixed-rate bond market and consists of U.S. Treasury and government-related bonds, corporate securities and asset-backed securities.
Figures shown are past results and are not predictive of results in future periods. The market indexes are unmanaged and, therefore, have no expenses. Their results include reinvested distributions but do not reflect the effect of sales charges, commissions, account fees, expenses or taxes.
Risk Disclosures
Investors should carefully consider investment objectives, risk, charge and expenses. This and other important information is contained in the fund prospectuses and summary prospectuses which can be obtained by visiting statefarm.com. Read it carefully.
Investing involves risk, including potential for loss.
An investor should consider the Plan's investment objectives, risks, charges and expenses before investing. The Program Disclosure Statement at www.statefarm.com which contains more information, should be read carefully before investing.
Investors should consider before investing whether their or their beneficiary's home state offers any state tax or other state benefits such as financial aid, scholarship funds, and protection from creditors that are only available for investments in such state's qualified tuition program and should consult their tax advisor, attorney and/or other advisor regarding their specific legal, investment or tax situation.
This material is provided for general and educational purposes only and is not intended to provide legal, tax or investment advice, or for use to avoid penalties that may be imposed under U.S. federal tax laws. This material is not an offer to sell or a solicitation of an offer to buy any securities. Any offer to sell units within the Plan may only be made by the Program Disclosure Statement and Participation Agreement relating to the Plan.
Nebraska Educational Savings Plan Trust Issuer
Nebraska State Treasurer Trustee
Nebraska Investment Council Investment Oversight
First National Bank of Omaha Program Manager
State Farm VP Management Corp. Selling Dealer
First National Capital Markets, Inc. Distributor, Member FINRA, SIPC
First National Capital Markets and First National Bank of Omaha are affiliates.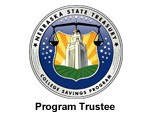 Target Date Funds are portfolios whose investment objectives are adjusted over time to be more conservative as the target date (date the investor plans to start withdrawing their funds) approaches. The principal value of the fund(s) is not guaranteed at any time, including at the target date.
You could lose money by investing in the Money Market Fund. Although the Fund seeks to preserve the value of your investment at $1.00 per share, it cannot guarantee it will do so. An investment in the Fund is not a deposit of a bank and is not insured or guaranteed by the Federal Deposit Insurance Corporation ("FDIC") or any other government agency. The Fund's sponsor has no legal obligation to provide financial support to the Fund, and you should not expect that the sponsor will provide financial support to the Fund at any time.
AP2018/09/1059
No Bank Guarantee
May Lose Value