Become An Intern
Serious Development,
Serious Fun
Become an Intern
Things to Do
State Farm® internship programs are packed with activities including social mixers and business acumen workshops. You will not be surprised to see interns attending bowling nights, participating in intramural sports leagues, and on outings to State Farm Park.
Search Jobs and
Apply Now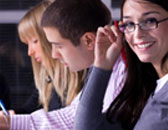 Gain confidence and prepare for the future.

We're serious about personal development here. Beyond day-to-day business experience gained during your internship, you'll get a jump on career planning and receive personalized professional development.
Business Acumen Session and Career Workshops

State Farm® hosts Business Acumen Sessions and a Career Workshops designed to provide you information on career planning and offer insight to various corporate departments. These opportunities will assist you in understanding how the company works together to be a leader in the insurance and financial services industry and how you can prepare for your future.
Mentor Program and Networking

Every State Farm intern is assigned a mentor within their department to provide an opportunity to have a direct contact for questions and guidance throughout the summer. Managers and mentors are available to assist you in gaining exposure to other departments or areas through job shadowing opportunities. Interns are invited to a Networking Event that offers a chance to meet other full-time employees ranging from analyst to management professionals.
A little friendly competition never hurt anyone. A healthy body makes for a healthy mind, and there is no better way to stay fit than through sporting competitions. All interns housed at Corporate are invited to join intramural sports leagues that run through the summer. Intramural sports leagues are available for the following:
Tennis
Volleyball
Basketball
Softball
Soccer
Ultimate Frisbee
Sunny days to unwind and make friends. Likely to become your most prized Corporate internship perk, State Farm Park, a beautiful, 99-acre recreational park, is available to Corporate-based interns all summer long, free of charge. State Farm Park is no ordinary park — it includes top-notch amenities and facilities for every activity:
A full water park including an adult pool, children's aquatic play area, water slides and a lazy river
A variety of sports courts including tennis, volleyball, basketball, softball, disc golf and soccer
A clubhouse with a café, locker rooms and conference rooms
An 18-hole miniature golf course
Picnic shelters
Fishing ponds
A fitness spa
And much more!
Disclaimer: The internship benefits listed are consistently offered in the Corporate-based Internship Program but may vary at other locations. Internship perks specific to each location will be listed on the job posting.
Reasonable Accommodation Assistance
If you need assistance during the application or hiring process to accommodate a disability, you may request a reasonable accommodation by contacting Career Center Support or your State Farm contact.

State Farm is an equal opportunity employer.